LeRoy ~ Virginia (Jean) M. Bennetti, age 97, formerly of Union St, passed away Tuesday evening (February 21, 2023) at LeRoy Village Green Nursing Home.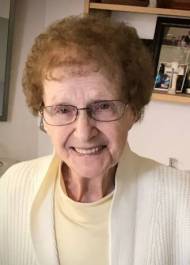 Jean was born on April 17, 1925, in Wheatland, NY to the late Salvatore and Pasqualina (Syracuse) Sinacore.  She grew up in Mumford, NY, along with her predeceased siblings.  She soon started her beautiful life with her late husband, Leo J. Bennetti, of almost 50 years, in LeRoy, NY.
     Jean lived her last years at the LeRoy Village Green Nursing Home, where she was kept young.  She was able to enjoy many of her favorite things like bingo, euchre, listening to live music, and spending time with her late roommate, Rose.  She also enjoyed trying new things like painting, crafting, and even dressing up in costumes for holidays.  Jean made many good friends and received excellent care from everyone at the nursing home.
     Generous, nurturing, loving, and kind would be just a few words to describe Jean. She was the matriarch of the family.  If you were at her home, she made sure you had plenty to eat or had a good time playing cards (she was always winning, of course).  Jean was thrilled to see her family grow and was always ready to share pictures or a story about them.  One of her greatest joys was to spend time with her great grandchildren.
     Jean will truly be missed, and her memories cherished by all who knew her but especially by her sons, Tom (Karen) Bennetti and Robert (Phyllis) Bennetti; grandchildren, Kelli (Ron) Pol, Kristi (Jordan) Oliver, Matthew (Katlyn) Bennetti, Mark Bennetti and Michael (Sarah) Bennetti and her great grandchildren; Joseph and Leo Oliver, Mackenzie and Lucas Bennetti, Olivia Bennetti and Lucy Pol.
     Family and friends may call on Monday, Feb. 27 from 4 ~ 7 PM at the Falcone Family Funeral & Cremation Service Inc., 8700 Lake St. Rd., LeRoy. Jean's Rite of Christian Burial will be celebrated on Tuesday, Feb. 28 at 11:00 AM at Our Lady of Mercy Parish, St. Peter's Church, 44 Lake St., LeRoy.  Interment is private in St. Francis Cemetery.
     Your memories and condolences may be shared with Jean's family at www.falconefuneralhome.com.