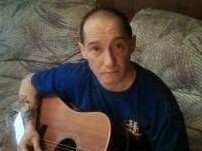 Batavia - Vincent A.  Sanfratello, 57 of Batavia passed away on Friday, February 17, 2023 at Premier Genesee Center for Nursing and Rehabilitation in Batavia, New York.
Mr. Sanfratello was born Friday, January 7th, 1966 in Batavia, NY a son of the late Angelo and Rita (Rivers) Sanfratello. 
He enjoyed playing guitar, listening to music, spending time with friends, hunting and fishing.  
Vincent is survived by his daughter, Rachel Sanfratello; a brother, Randy Sanfratello; aunts, Lori Forsyth, Bev Corcoran, Cheryl Barber, Eleanor Rivers, and many cousins. 
In death Vincent is reunited with his parents Angelo and Rita Sanfratello.  
Arrangements are under the care and direction of H.E. Turner & Co., Inc. Funeral Home. As per the family's request there will be no calling hours. Burial will be at the family's convenience at St. Joseph's Cemetery.  In lieu of flowers, memorials may be made to American Diabetes association online at https://diabetes.org/.
Please leave a condolence, share a story, or light a candle at www.bataviafuneralhomes.com.