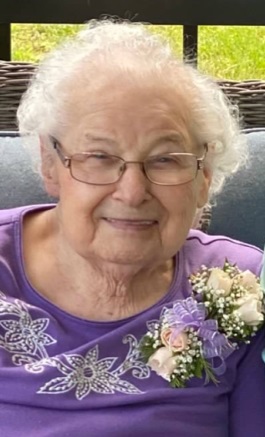 Helen W. Laird, 100 of Batavia, NY passed away peacefully on Friday (February 24, 2023) at the New York State Veteran's Home in Batavia, NY. 
She was born June 6, 1922 in Palmerton, PA, a daughter of the late Charles and Helen Stigura Wargo. 
Helen was employed at the New York State School for the Blind in Batavia, NY for over 20 years until her retirement in 1981. During her employment she held many positions including seamstress, in which she made bedding and curtains for the residing students. 
Helen was a skilled knitter and crocheter. She enjoyed making doilies, tablecloths, sweaters, baby blankets and afghans for family and friends. Helen also enjoyed baking and looked forward to baking 20+ varieties of Christmas cookies every holiday season. 
Helen lost her son PFC Richard F. Laird during the Vietnam War, 6 days before his 21st birthday, in November 1967 making her a "Gold Star" mother and the last remaining in Genesee County. 
Helen was the wife of the late Vernon D. Laird, who passed away October 3, 1999 and mother to the late PFC Richard F. Laird (1967), Patricia A. Eaton (2014) and Nancy E. Curtis (2021). Helen was also the last remaining Wargo sibling. Her brothers and sisters were Mary, Charles, Anna, George, Andrew and Johnny. 
Survivors include a son, Larry (Ellen) Laird of Lancaster, NY and a daughter, Susan (Terry) Zilenski of Oakfield, NY.  Grandchildren include Kathleen (Todd) Bender, Bradley (Michele) Rodon, Tersa (Dan) Lane, Kelly Kabel, Melissa (Rick) Pendleton and David Zilenski. Helen is also survived by six great-grandchildren. 
Family and friends are cordially invited to share thoughts, condolences and fond memories on Friday (March 3rd) from 4-7pm at the J. LEONARD McANDREW FUNERAL HOME, LLC, 2 Bogue Ave., Batavia, NY. Her Mass of Christian Burial will be Saturday, 11:00am at St. Padre Pio Parish, 55 Maple Ave., Oakfield, NY. She will be laid to rest in St. Joseph Cemetery in Batavia.
Memorial contributions in her name may be offered to a charity of the donors preference. Expressions of sympathy may be shared with the family at www.mcandrewfuneralhomes.net.
ARRANGEMENTS WERE ENTRUSTED TO THE J. LEONARD McANDREW FUNERAL HOME, LLC, 2 BOGUE AVE., BATAVIA, NY 14020. RONALD KONIECZNY II, DIRECTOR.