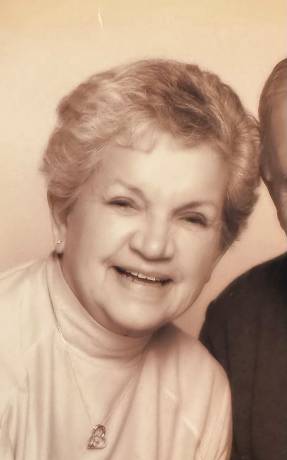 Joyce (Hoover) Meisner, 88, of Batavia passed away peacefully on Monday February 27, 2023 at Strong Memorial Hospital. She was born on April 17, 1934 in Batavia, a daughter of the late John and Agnes Hoover of Darien Center. In addition to her parents, Joyce is predeceased by her husband; Robert D. Meisner; grandson David McCarthy; siblings William, Harvey and Robert Hoover, June Leonard and Jean Swanson.  
Joyce was a self-employed hairstylist for over 60 years. She and her husband owned and operated North Vine Beauty Salon as well as Elite Beauty Salon and Miss Joyce Hairstylist
She was an accomplished artist and was involved in the local Arts Council for many years. As a lover of all animals, dogs were her favorite and she was able to capture their likenesses in several portraits. She kept "old fashioned fun" alive with her children and grandchildren, playing dress-up, arts and crafts, games and an annual New Year's Eve sleepover. Artistic talent beyond the canvas, she was famous for her off the wall culinary concoctions. She and her family traveled extensively across the country and to Alaska, but their favorite destination was at "camp" in the Adirondacks.  
She was active in the community and enjoyed Bingo. Often times she was the one driving the "Bingo Bus" to ensure her non-driving friends we able to participate.   
She is survived by her children; Mary (Michael) McCarthy of Batavia, Paul (Kathy Wojtas) Meisner of Lancaster, Don (Dottie) Meisner of San Antonio, Texas; her grandchildren, Joe Pastore, Stephanie Pastore, Brian (Kristine) McCarthy, Lori (Stan) Sauls, Sarah (Greg) Emerson, Christina (Gabe) Rosas, Alicia (Byron) Clark, Brandon (Abby) Meisner and Ellee Meisner; several great-grandchildren, many nieces and nephews. She is also survived by her loving sister and best friend; Patricia Keene whom she also worked with for over 60 years.
Friends are invited to call on from 10:00AM – 12:00PM on Thursday March 2, 2023 at Gilmartin Funeral Home & Cremation Company, Inc. 329-333 West Main Street Batavia, New York 14020, where a 12:00PM Funeral Service will immediately follow at the Funeral Home.
In lieu of flowers, memorials may be made to the David McCarthy Memorial Foundation 5016 Terry Hills Dr. Batavia, NY 14020. To leave messages of condolence please visit www.gilmartinfuneralhome.com. Arrangements completed by Gilmartin Funeral Home & Cremation Company, Inc. 329-333 West Main Street, Batavia, New York 14020.