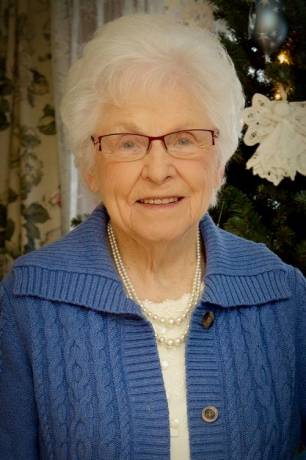 BERGEN - Kathryn Logan, 96, of Bergen, passed away Monday, February 27, 2023, at her home in Bergen.
"Katy" Logan was born on November 7, 1926, in Shippenville, PA, the daughter of the late Milton and Mabel Greenawalt. Katy graduated from Shippenville High School and served with her husband Jack Logan in the pastoral ministry of the Free Methodist Church for 50 years. In addition, she worked as the manager of the bookstore at Roberts Wesleyan College for several years.
She was predeceased by her husband, Jack Logan, whom she was married to for 73 years.
Kathryn is survived by; four children, Stephen (Donna) Logan of TN, Connie Logan of Bergen, Keith (Theresa) Logan of MI and Mark (Ruth, deceased) Logan of Churchville; 14 grandchildren; Jonathan (Candice) Logan, Jason Logan, Jamie (Wade) Humphries, Allison Nichols, Meredith (Stefan) Bauroth, Nicole (Matthew) Rapp, Maria Baltazar, Melinda (Jonathan) Cardenas, Melissa (David) Fite, DeWayne (Emily) Logan, Jordan (Raina) Logan, Tyler (Rebecca) Logan and Elise (Shane) Fraser; 31 great-grandchildren; 4 great-great-grandchilden; 1 sister, Arvella Sherman of Erie, PA.
She was the sister of the late DeWayne Greenawalt; Norman Greenawalt; Junior Greenawalt; & James Greenawalt.
Friends may call on April 22, 2023 from 1:00-2:00 p.m. at Pearce Memorial Free Methodist Church, 4322 Buffalo Rd., N. Chili, NY. Memorial Service will be immediately following at 2:00 p.m. at Pearce Memorial Church, with the Rev. Walter Fleming officiating. Interment will be in North Chili Cemetery. In lieu of flowers, please consider memorials in Kathryn Logan's name to Northgate Free Methodist Church toward "Gahanda Rwanda Fund", 8160 Bank Street Road, Batavia, NY 14020.
Arrangements for Katy were entrusted to H.E. Turner & Co. Funeral Home in Bergen. Please leave a condolence, share a story, or light a candle at www.bataviafuneralhomes.com.