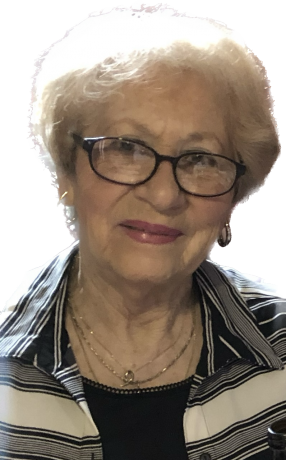 Bernice M. DiFilippo, 93 of Batavia, passed away peacefully surrounded by her family on Monday, March 6, 2023 at United Memorial Medical Center, Batavia. She was born October 11, 1929 in Oakfield, to the late Angelo and Nunzia (Cipicchia) Acitelli. She is preceded in death by her beloved husband Victor A. "Bones" DiFilippo, son-in-law Carl "Butch" Chatley, brothers, Frank (Polly) and Mario (Joan) Acitelli, sister, Edith (Sandy) Angelo, brother-in-law Roy Myers.
Mrs. DiFilippo, retired after many years at Batavia Downs. She was a woman of great faith, member of Ascension Parish, the Altar & Rosary Society, and it's Bereavement Committee. Mrs. DiFilippo was also a member of the Paulo Busti Cultural Foundation. She enjoyed coffee with her girlfriends, cooking and most of all her family.
She is survived by her children, Susan Chatley of Batavia, Frank (Sue) DiFilippo of Corfu, sister Anne Myers of Rochester, brother, Joseph (Joyce) Acitelli of Oakfield, grandchildren, Vickie (Cam) McDonald, Ryan and Jordan DiFilippo, brother-in-law, Robert Darch of Batavia, sisters-in-law, Dolly DiFilippo of Batavia, Sue DiFilippo of FL, Penny DiFilipo of Batavia, along with many nieces, nephews, great-nieces and great-nephews.
Friends are invited to call on Sunday, March 12, 2023 from 2 to 6pm at Gilmartin Funeral Home & Cremation Company, Inc. 329-333 West Main Street, Batavia, NY 14020. A 1:00pm Mass of Christian Burial will be held on Monday, March 13, 2023 at Ascension Parish, 15 Sumner St., Batavia, NY 14020. She will be laid to rest in St. Joseph's Cemetery, Batavia.
In lieu of flowers, memorials may be made to the church or to Notre Dame Foundation, 73 Union St., Batavia, NY 14020. To leave an online message of condolence visit www.gilmartinfuneralhome.com. Arrangements completed by Gilmartin Funeral Home & Cremation Company, Inc. 329-333 West Main Street, Batavia, New York 14020.