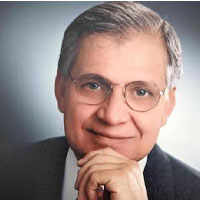 Alvaro (Al) Cadena, 79, of Pittsford, NY, passed away early March 10, following a recent pancreatic cancer diagnosis. He died peacefully at home in the company of his loved ones. Born in Colombia in 1943, Al moved to the United States in 1965 to attend college. Soon after his arrival, officiants in both Colombia and the United States observed wedding vows proclaimed via telephone, after which Martha, Al's beloved wife of 57 years, joined him to build their life in New York. Al graduated from NYU with a Bachelor of Science in Mechanical Engineering and later earned a Master of Engineering Management from the Rochester Institute of Technology (RIT).
For 39 years, he worked for Graham Corporation, first in its New York City offices, and later in Batavia, NY, where he ultimately retired as President and CEO. Al's work ethic and dedication were evidenced by the advisory roles held and honors received throughout his career, including advisory council of the SUNY Business School at Brockport, President of the Tubular Exchanger Manufacturers Association (TEMA), and RIT's 1988 Distinguished Alumnus Award. He also served on the advisory board of the Wilmot Cancer Institute at the University of Rochester Medical Center, a position he held especially dear as a 27-year survivor of metastatic prostate cancer under their care. However, Al was not "all work". His love of life was infectious, showing a joyful appreciation for things well-done in any form: good food, exquisite pens, or even a well-constructed coffee scoop. He made everyday events more interesting, a prime example being golf, during which he scored a Hole-In-One.... twice. Al's unmatched energy was especially appreciated by his grandchildren, for whom he was never too busy: board games, field trips, swimming; if they could think it, he would do it.
In addition to his wife Martha, Al is survived by his children, Alvaro (Catherine) Cadena of New York, Jorge (Lisa) Cadena of Florida, Sylvia (Steven) Alexander of New York, and the four grandchildren who bestowed upon him his most distinguished role of all, "Abuelito" or "Tito". The family will receive friends Thursday, March 16, from 5-7pm EDT at Anthony's Funeral Home in Brighton, NY. A private memorial service for family will follow on Friday. In lieu of flowers, memorial contributions may be made to Wilmot Cancer Institute.
VISITATION: Anthony's Funeral Home in Brighton, NY
March 16, 2023 at 5:00 PM - 7:00 PM