March 17, 2023 - 4:11pm
Mr. Bradley F. Rogers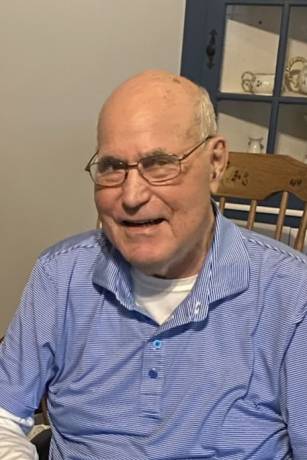 Bradley F. Rogers passed away on March 17, 2023 with his loving family by his side.  He was born December 11, 1938 in Franklinville, NY to the late Dean and Florence (Jones) Rogers.  In 1969, he married the former Sheila Tehan.
Brad graduated from Ten Broeck Academy in Franklinville and continued his studies at SUNY College at Brockport where he earned a BS in elementary education, MS in education and a CAS in educational administration.   He taught for Olean CSD, Byron-Bergen CSD, and Batavia City Schools. He was a JV and Varsity basketball coach at Notre Dame HS and Batavia HS.  He was also a BHS track and golf coach.  He coached summer basketball clinics, was president of the Batavia Teachers' Association and taught migrant education.    He was a former Genesee County Legislator, Member of the GCIDA Board of Directors, General Manager of the former Batavia Clippers, and Director of the NY-Penn Professional Baseball League.   He served on the Genesee County Soil and Water Conservation District in a variety of roles, including being Vice-Chairman.  He was President of the NY Association of Conservation Districts and Chair of the Great Lakes Commission, with the National Association of Conservation Districts in Washington, DC.  In the 1980s, he received Governors Carey's and Cuomo's appointments to the State University College of New York at Brockport College Council. 
He was a member of the St. Joseph's Holy Name Society, the Knights of Columbus, Elks Club, Batavia Country Club, and Terry Hills Golf Course, (where he shot a hole in one on #14).  He loved following St. Bonaventure, Syracuse, and Notre Dame basketball, along with the Yankees and the Bills, golfing, fishing, painting, and solving puzzles.  All of these couldn't compete with the love he had for his family, creating a special bond with each of them.
In addition to his wife of 53 years, he is survived by his children Julia, Michael, Maria (Mark) Fitzpatrick, Kathleen (Jon) O'Day, Marcia (Brian) Danahy, Paul (Kacey), and Kevin (Megan) and grandchildren Kathryn, Arabella, Ryan, Megan, Matthew, Evan, Courtney, Nolan, Jacob, Emma, and Caden.  He is also survived by his sisters, Joyce Kelly and Carole Dallas, and brother-in-law, Bruce (Jeanette) Tehan, and nieces and nephews. 
In addition to his parents, he was predeceased by his brother, Charles, his mother-in-law and father- in-law, Kathryn and Frank Tehan, his brothers-in-law, Edwin Kelly and Douglas Dallas, sister–in-law, Mary Ann Heveron, nieces Mary Kathryn O'Geen and Sheila Heveron and nephew, James Heveron.
There will be no prior calling hours.  His Funeral Mass will be celebrated at Resurrection Parish (St. Joseph's site-303 East Main Street, Batavia) on Monday, March 20 at Noon.   In lieu of flowers, donations may be made to St. Joseph's Regional School, 2 Summit St., Batavia, NY or Notre Dame High School, 73 Union St., Batavia, NY. To leave a condolence, share a story or light a candle in his memory, please visit www.bataviafuneralhomes.com.
Arrangements are under the care and direction of the Bohm-Calarco-Smith Funeral Home, 308 East Main Street, Batavia.