Nicholas (Nick) Pascucci of Stafford, passed away peacefully on Friday, March 17, 2023, just 3 weeks shy of his 94th birthday. He is the son of the late James Pascucci (originally from Vasto, Italy) and Mary Sammarco (originally of Vallelunga, Sicily) who settled in Batavia to raise their family. He is predeceased by brothers Louis, Joseph, Dominic, James, John and Victor and sisters, Edith Kipp, Irene Lewis and Jean.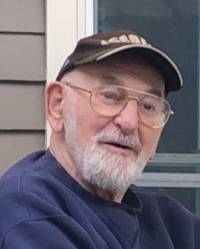 Nick always said with a chuckle, "You have to keep your body moving because if you let yourself slow down, you're done for!" He lived by that philosophy and was a role model for all of us in demonstrating it. He was rarely at rest from dawn till dusk. Judging from his longevity, it seems he knew what he was talking about!
     Always witty and quick with a joke, he will be remembered for his great sense of humor and ability to make others laugh through his gift of storytelling; and he had plenty of stories and adventures to share! One could consider oneself fortunate to be regaled with his tales of growing up in Batavia, or his years in the army when he was in the Philippines and Japan, or his years as a civilian living in Japan. His flair for detail could transport the listener to the era and setting to which he was referring. His experiences and adventures were amazing and fun to hear.
     His greatest adventure began when meeting his future wife, Florence Corona, who, at the time, was a telephone switchboard operator in Batavia. He asked her out for coffee and the rest of the story has taken 66 years to complete. Together, they raised four children, Nicholas (Nick), Vincent (Vin), Gina and Renee.
     While raising his family, Nick worked as an electrician through the IBEW local 86 in Rochester where he made many lifelong friends. He loved to fish and garden and until recently could be found outside, checking his garlic, in particular. He was a long-time member, and eventually president of, the Stafford Zoning Board of Appeals. He fulfilled a long time dream of learning to play the piano when he was in his 40s, spoke 2 languages other than English (Japanese and Italian) and loved classical music and opera.
     Nick was a kind and gentle man with a relaxed nature who had the ability to make everyone around him feel comfortable and welcome. He was a real treasure and will be greatly missed.
     He is survived by his wife of 66 years, Florence Corona Pascucci, his children, Nick, Vin (Liz), Gina (Mark) Battaglia, Renee (Glenn) Mitges; 7 grandchildren, 5 great grandchildren, a sister, Delores Lanzo and brother, Floyd, many nieces, nephews and beloved friends.
     Family and friends may call on Friday, March 24 from 3 ~ 7 P.M. at the Falcone Family Funeral & Cremation Service Inc., 8700 Lake St. Rd., LeRoy.  Nick's Rite of Christian Burial will be celebrated on Saturday, March 25 at 11:00 A.M. at Our Lady of Mercy Parish, St. Peter's Church, 44 Lake St., LeRoy.    
     In lieu of flowers, donations may be made in Nick's name to either St. Jude's Children's Research Hospital (www.stjude.org) or Parkinson's Research (www.michaeljfox.org).
     Your memories and condolences may be shared with Nick's family at www.falconefuneralhome.com.