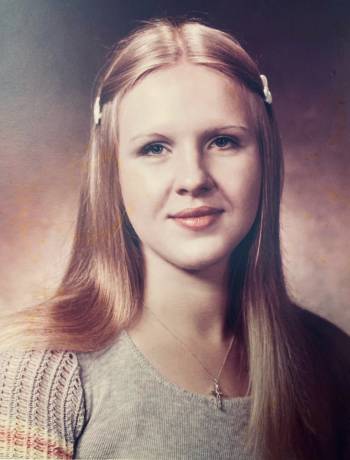 Holly A. Zaremski, 67, passed away peacefully, surrounded by her loving family, on March 18, 2023 at Unity Hospital, Rochester, NY.
Mrs. Zaremski was born November 4, 1955, in Batavia, to the late Gerald W. Lang and the late Elfreda M. (Scroger) Lang. She graduated from Batavia High School in 1974 and began her 30 plus years of employment at Chapin International, Inc.
She is survived by her husband of 48 years, Edward T. Zaremski of Oakfield; daughters Amber M. Zaremski (James F. Orlando) of Oakfield and Jessica L. Zaremski (Jarrod B. Clark) of Batavia; grandson Gabriel A. Daley of Basom; granddaughter Guinnevere J. Clark of Batavia; sisters Debbie M. (John) Konieczny of Batavia, Jenny E. (Ike) Behe of Barker, Felicia R. (Thomas) Cecere of Bergen; brothers Ricky G. (Niki) Lang of Batavia, Timothy J. (Helen) Lang of Sparta, North Carolina and Jeremy A. (MaryAnn) Lang of Mebane, North Carolina; along with several nieces and nephews.
She was predeceased by her mother Sophia L. Lang in 2007; grandparents Jacob H. & Marion B. (Base) Lang in 1985; brother Richard J. Zaremski in 1985; sister Tonia M. Zaremski in 2022; nephews Jason D. Lang in 2017 and Jacob A. Lang in 2020.
Holly loved her husband, daughters and grandchildren deeply and enjoyed spending time with her dear friends and family, socializing. She was pleasant to everyone she encountered and was always ready to make a new friend. She will be remembered for her kind heart, sweet smile, sense of humor and her spontaneous nature.
There will be no prior calling hours.  A 9:30a.m. Mass of Christian Burial will be held on Friday, March 24, 2023 at Resurrection Parish (St. Mary's R.C. Church) 18 Ellicott Street Batavia, NY 14020.  She will be laid to rest in St. Joseph's Cemetery, Batavia, NY.
Memorial donations may be made to the Central Orleans Volunteer Ambulance, Inc. (COVA), www.covaems.com. To leave an online message of condolence visit www.gilmartinfuneralhome.com. Arrangements completed by Gilmartin Funeral Home & Cremation Company, Inc. 329-333 West Main Street, Batavia, New York 14020.