Brockport ~ Benjamin John Lathan, age 22, formerly of Bergen, passed away unexpectedly.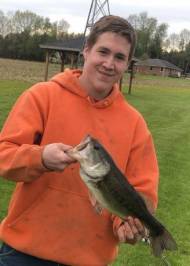 He was born August 19, 2000 in Batavia, a son of John P. Lathan and Amy Burch Kohorst.
     Ben was a very kind and loving person who would go out of his way to help others. He loved his family and his friends, but most of all he loved being outside, whether it was for hunting or fishing, gathering up his chickens or building a pig stall. But his favorite thing to do was sitting around a bonfire with all of his favorite people around.
     His smile and laughter would brighten up a room no matter where he was.
     He is survived by his father, John Lathan of Bergen; his mother; Amy Burch Kohorst of Stafford; his brother, Jeffrey Kohorst of Piffard, his sister and brother-in-law, Alyssa Wood and Micheal Pinkerton of Stafford, his brother, Edwin Lathan of Stafford; his nieces and nephew, Rylee Wood, Everlee Pinkerton and Weslee Wood of Stafford and nephew, Corby Copani-Kohorst of Florida; his grandparents, Gerald and Elaine Burch of Stafford and Grace and the late Edwin Lathan of LeRoy, along with many loving aunts, uncles and cousins.
     Memorials may be made to the family. A Celebration of Ben's Life will be held soon.
     Your memories and condolences may be shared with Ben's family at www.falconefuneralhome.com.