Image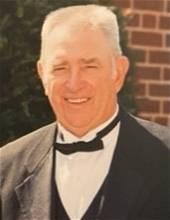 On Wednesday, April 26, 2023 Edmund R. "Bud" O'Neill, 92, of Batavia decided on a new adventure. He left us here on earth and went to heaven to start a new adventure with his wife Pat and his son Kevin.
He served in the United States Air Force from 1949-1953 and was a member of the IBEW Local 86 in Rochester where he worked as an electrician. Bud was a life time member of Godfrey's Pond and the Oatka Fish & Game Club. He was also a member of the Old Boys Club and the Alexander Happy Agers.
For 92, he lived life to the fullest, regardless of how nervous it made his family and friends. If there was an adventure, he wanted to do it. His many adventures included horses, motorcycles, sky diving, hot air balloon rides, dancing, golfing, roller skating, cross country road and hunting trips, and lots of fishing, hunting, NRA Instructor, trap and skeet shooting and archery. Whether he was with his grandkids or great grandkids playing doll house, telling stories or going out hunting with them it was those times that were his greatest joy.
He enjoyed his countryside rides with his special friend, Marsha driving the countryside looking for wildlife and tracking their finds in their journal.
Mr. O'Neill is survived by his children; Patti Jo O'Neill of Caledonia, Cheryl (Ri Sipes) O'Neill of Pleasant Hill, CA., Shana Lasher of Henrietta, Colleen (Allen) Alton of Hamlin and Karen (Mark) DeFelice of Pavilion; daughter in law Kim O'Neill of Alexander; 7 grandchildren, 4 great-grandchildren. He is predeceased by his wife; Patricia (Garlock) O'Neill in 2014 and son Kevin O'Neill in 2012.
Friends are invited to call on Tuesday, June 6, 2023 from 11:00AM - 1:00PM at Gilmartin Funeral Home & Cremation Company, Inc. 329-333 West Main Street, Batavia, NY 14020. A 1:00PM Funeral Service will immediately follow visitation at the Funeral Home. He will be laid to rest in Grand View Cemetery, Batavia.
In lieu of flowers, memorials may be made to Catholic Charities (Genesee County) 25 Liberty St. #7 in Batavia or Meals on Wheels (Office for the Aging) 2 Bank St. in Batavia. To leave an online message of condolence please visit www.gilmartinfuneralhome.com. Arrangements completed by Gilmartin Funeral Home & Cremation Company, Inc. 329-333 West Main Street, Batavia, New York 14020.