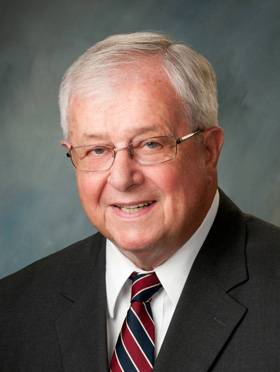 LeRoy - Robert L. Boyce, age 88, passed away early Wednesday morning (July 26, 2023), after a period of declining health. 
Bob, a native of Hamburg, NY, graduated from Hamburg High School. Upon completion of high school, he joined the Army and served in Korea, after which he was honorably discharged. He then continued his education at The University of Buffalo.
Bob came to LeRoy with his family in 1968 to join the Ernest Townsend & Son Insurance Agency, now known as Tompkins Insurance. Bob immediately became active in the community by first joining the LeRoy Jaycees. He continued his community service with the LeRoy Rotary Club, where he was active for almost 50 years and served as president in 1975. The R.E.A. Milne Scholarship arm of the Rotary was of special interest to him. He was a Paul Harris fellow. 
He was president of the Genesee Community College Foundation for three years, was appointed a trustee of GCC by the Genesee County Legislature in 2014, and served as vice-chairman on the Le Roy Republican Committee. Bob also served as a trustee of Our Lady of Mercy Catholic Church.
Bob was a member of the board of the LeRoy Ambulance Service for 27 years and served as president for 13 of them. One of his goals for the ambulance organization was to make sure it continued to be a viable service in the LeRoy community with quality pre-hospital care.
Bob has been honored by several organizations for his community service, including the Genesee County Health and Humanitarian Award (2014), Botts-Fiorito Post #576 LeRoyan of the Year (2018), Boys Scouts Distinguished Service award (2019), and the Alpha Medal of Service award at GCC Foundation (2020).
Bob's favorite times were spent with family and friends, freely dispensing advice on the best new car deals. He was also an avid Buffalo Bills and Buffalo Sabres fan and was recently recognized by both teams as a 50-year Season Ticket Holder. 
Bob will be missed by his wife of 61 years, Beth, his daughters Ann (Alan) Nordyke and Tracey (Jim) Carter, and son David (Irena) Boyce. His 8 grandchildren, Laura Nordyke Boland, Andrew Nordyke, Megan Boyce, Ryan Boyce, Emily Carter, Madelyn Carter, Gil Katz, Ella Katz and 2 great-grandchildren will also miss their loving "Poppie". He was predeceased by his parents, Stuart and Esther Boyce and his brother, Jerry. 
Friends and family are all welcome to his Mass of Christian Burial on Friday, August 4th, 2023, at 11 a.m. at Our Lady of Mercy Parish, St. Peter's Church, 44 Lake St. in Le Roy. Immediately following the Mass will be a reception and light lunch at the Parish Center (former Holy Family School). All are invited to attend either or both.
Flowers gratefully declined. Donations kindly suggested to LeRoy Ambulance Service, P.O. Box 56, Le Roy NY 14482; GCC Foundation, 1 College Rd, Batavia NY 14020; and Our Lady of Mercy Parish, 44 Lake Street, Le Roy NY, 14482.
Your memories and condolences may be shared with Bob's family at www.falconefuneralhome.com.