Image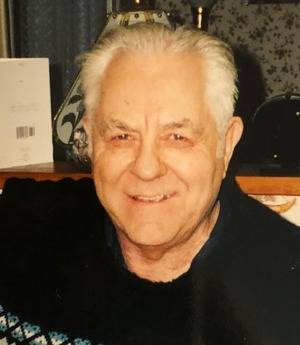 BATAVIA- Bruno Zielinski, 98, of Batavia died Sunday (Sept. 17, 2023) at New York State Veterans Home in Batavia.
Mr. Zielinski was born Jan. 31, 1925 in Elba, son of Stanley and Josephine Zielinski.
A World War II Army veteran, he worked at GTE Sylvania for 25 years and then several years at the Batavia water treatment plant. He also had a well-known home business fixing watches and clocks. 
Surviving are his wife of 69 years, Dorothy (George); children, Diane Zielinski of Rochester; Robert (Kristine) Zielinski of Charlotte, NC; and Mark (Lynn) Zielinski of Troy; six grandchildren, David (Sara) Zielinski of Greenville, SC; Margaret (Jacques Azzi) Zielinski of New York City; Daniel (Sonia) Zielinski of Singapore; Matthew Zielinski of Caledonia, Laura and Allison Zielinski, both of Charlotte; four great-grandchildren, Eliana, Mabel and Lucas Zielinski and Mika Azzi; his sisters, Jennie Seager of Albion and Martha Tierney of North Tonawanda, along with several nieces and nephews.
He is the father of the late Mary Anne Zielinski and brother of the late Stella Szymanski, Sophie Kingdom, Ann Surman, Julian Zielinski, Helen Klinkbeil, Mary George and Frank Zielinski.
There are no calling hours. His Mass of Christian Burial will be celebrated Friday (Sept. 22) at 12 pm at St. Joseph's Church, 303 East Main St., Batavia. He will be laid to rest in St. Joseph's Cemetery, Batavia. In lieu of flowers, memorials may be made to Activities Fund at the New York State Veterans Home, 220 Richmond Ave, Batavia, NY 14020. To leave a condolence, share a story or light a candle in his memory, please visit www.bataviafuneralhomes.com.
Arrangements are under the care and direction of the Bohm-Calarco-Smith Funeral Home, 308 East Main St., Batavia.