Image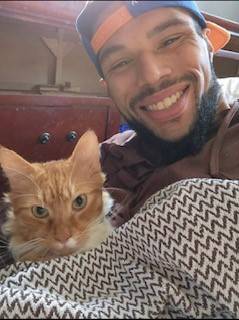 Adam B. Thomas, 34, of Batavia passed away on September 16, 2023. He was born March 31, 1989 to Carmen L. (Martinez) Thomas of Batavia, and the late Bart A. Thomas. He is preceded in death by his grandfather Luis Martinez, grandparents, William F. Thomas and Anna L. (Duncan) Thomas. 
Adam enjoyed music, dancing and bowling. He loved to write lyrics for rap and did freestyle rapping. He loved to be around his family and was very loving. Adam would give you the shirt off his back. He worked at local places, loved to entertain others and had a very special closeness to his father and God. 
He is survived by his beloved mother, Carmen Thomas; siblings, William L. Thomas of Batavia, Bart A. (Kathleen) Thomas, Jr. of Buffalo, Shamarr A. (DJ) Mamula of Hueneme, CA, ; six nieces and nephews, Peyton, Patrick, Bart III "Trey", Lily and Nathanial; grandmother, Carmen M. Martinez; aunts and uncles, Anita E. Martinez of Hilton, Luis Martinez of Batavia, Patricia Johnson, Rick (Mary Jo) Thomas, Kirk Thomas, Rand Thomas, Tim Thomas all of Batavia, Vicki (Jeff) Shelnut of Alexander, Peggy (David) Vasciannie, Bill Thomas and Greg Thomas all of Batavia; along with a host of cousins and friends. 
Friends are invited to call on Sunday, September 24, 2023 from 4:00-7:00PM at Gilmartin Funeral Home, 329-333 West Main Street, Batavia, NY 14020. An 11:00AM Funeral Service will be held on Monday the 25th at the First Presbyterian Church 300 East Main St. in Batavia. Adam will be laid to rest in Grand View Cemetery. 
In lieu of flowers, memorials may be made to Carmen in Adam's honor. To leave a message of condolence visit www.gilmartinfuneralhome.com. Arrangements completed by Gilmartin Funeral Home, 329-333 West Main Street Batavia, NY 14020.