September 21, 2015 - 2:27pm
Blain A. "Doc" Nonnengard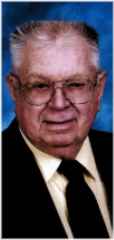 Blain A. "Doc" Nonnengard 89 of Batavia passed away Sunday September 20, 2015 at the NYS Veterans Home at Batavia.
He was born in Batavia, January 7, 1926, son of the late Alfred Rich and Maebelle Kelsey, and he was the adopted son of J. Raymond Nonnengard.  He was a 1943 graduate of Alexander High School, and then attended Morrisville State College to obtain a certificate in aeronautical instrument repair, before working at the Curtiss Wright factory in Buffalo till he was drafted.  He is preceded in death by his brother Charles Rich and son in law Robert Burnup.
Blain served his country honorably in the United States Army Aircorp during World War II as an Infantryman and worked in aeronautical instrument repair while stationed on Iwo Jima. He fought battles along the airstrips on Iwo and Saipan, earning two Bronze Stars. After the War, "Doc" used the GI Bill to pay for training at Simmons School of Embalming in Syracuse, NY. He worked for the Charles Reding Funeral Home in Attica for several years. After starting his family, he became a lineman and then Line Supervisor for 35 years at Niagara Mohawk Power Company in Avon and Batavia. He belonged to the Lions Club of Avon, and later the Kiwanis Club of Batavia. He was a member of Our Lady of Batavia Knights of Columbus and Resurrection Parish. He enjoyed his memberships of many years in the Penn Yan Hunting Club and the Civil War Roundtable of LeRoy. He maintained long time memberships in the American Legion, VFW as well as the Alexander Fire Department. He will be remembered by friends and relatives for always having a joke to share, having the best supply of homemade venison jerky and sausages, handing out Dumdum lollipops, giving Fireballs out on the golf course and for his outgoing nature. A happy man with an easy smile.
He is survived by his wife of 67 years Roslyn Kehl Nonnengard of Batavia, he was the father of Bonnie (Gary) Kullman of Albany, Nancy (Ronald) Bouchard of Perry,  Jane Burnup of Victor, Jo Louise (Todd) Wilkes of Batavia, James Nonnengard of Birmingham Alabama, 12 grandchildren, 5 great grandchildren and many nieces and nephews also survive. He was a special father to Carole (Mike) Grotrian of New Zealand and Gioco (Sergio) Lopez-Faini of Quito, Ecuador. 
Friends may call from 4 to 7pm on Friday September 25, 2015 at the Gilmartin Funeral Home & Cremation Company, Inc. 329-333 West Main St., Batavia, NY. A Mass of Christian Burial will be held on Saturday September 26th at 12:00 Noon at Resurrection Parish (St. Mary's), 18 Ellicott Street,  Batavia. He will be entombed with Military Honors with take place at St. Joseph's Mausoleum.
In lieu of flowers memorials in "Doc's" name may be made to the NYS Veterans Home Activity Fund, 220 Richmond Ave., Batavia or to Crossroads House, 11 Liberty Street, Batavia, NY 14020. For more information please call (585) 343-8260 or to leave a message of condolence please visit www.gilmartinfuneralhome.com. Arrangements completed by Gilmartin Funeral Home & Cremation Company, Inc., 329-333 West Main Street, Batavia, New York 14020.