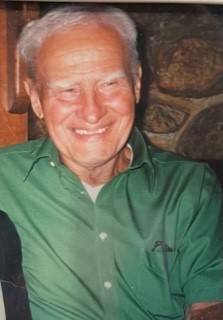 Carl J. Stephens, 86 of Stafford, passed away peacefully on Wednesday, May 10, 2023 surrounded by his family. He was born September 15, 1936 in LeRoy to the late Charles Stephens and Catherine (Stefani) Stephens Burr. He is preceded in death by his brother Robert Stephens.
Carl was a graduate of Batavia High School in 1954 and was the Valedictorian of the Metal Trade School. He finished 6th in his OCS class at Fort Sill, OK and joined the Army National Guard becoming Company Commander in Batavia. Carl worked at GE in Brockport for 9 years and received patent awards on the electric knife and blender.
He was elected as Stafford Town Councilman and held that position for two terms from 1986 to 1993. He was member of Stafford Volunteer Fire Department Exempts, Trustee for Call Memorial Hall in Morganville and served on the Board of Directors for Sleds of Stafford Snowmobile Club.
In 1982 he and his brother Robert started Stephens Farm, his son David joined in 1984 and is currently being run by David and fourth generation grandson Carl David. In October of 1984 he was elected to the Farm Bureau Board of Directors, Carl and Pat were also members of Kitchen Konference discussion group in local members homes. Later on the family farm raised chemically free beef cattle for Beef Home Freezer, got into calf boarding and cash crop farming. Carl also did snowplowing and Stephens Fiberglass Repair.
He is survived by his beloved wife, Patricia A. (Miner) Stephens of Stafford, children, David C. Stephens of Stafford, Debra (Scott) Wolff of Batavia, sister-in-law Elizabeth Stephens of Bergen, he will always be "Bampa" to six grandchildren, Dr. Amanda (Thomas) Demmer, Kristy Ambrose, Felecia Wolff, Jacob (Elizabeth) Wolff, Valerie Ann Stephens, Carl D. Stephens, 4 great-grandchildren, Lucas, Madeleine, Owen and Hannah, cat Missy and beloved nieces.      
Friends are invited to call on Monday, May 15, 2023 from 4-7pm at Gilmartin Funeral Home & Cremation Company, Inc, 329-333 West Main Street, Batavia, New York 14020. A Celebration of his Life will immediately follow at 7:00pm at the Funeral Home. An 11:00am Graveside will take place on Tuesday, May 16, 2023 at St. Joseph's Cemetery.
In lieu of flowers, memorials may be made to Sleds of Stafford, PO Box 709, Stafford, NY 14143 or to Stafford Volunteer Fire Department, PO Box 56, Stafford, NY 14143. To leave an online message of condolence, please visit www.gilmartinfuneralhome.com. Arrangements completed by Gilmartin Funeral Home & Cremation Company, Inc, 329-333 West Main Street, Batavia, New York 14020.