Image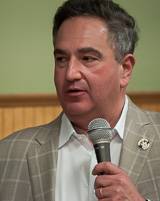 Press release:
Statement from Senator George Borrello:

"With the Senate Majority's confirmation of Justice Rowan Wilson for Chief Judge of the Court of Appeals, they have won their months-long campaign to transform the state's highest court with their brand of progressivism.  

They rejected Judge Hector LaSalle, a brilliant and independent jurist with the administrative experience the role demands, in favor of an activist judge. Judge Wilson will be more likely to legislate from the bench and willing to 'interpret' the law and State Constitution however necessary to advance a liberal agenda.  

With the state budget now 18 days late, chiefly because of the Legislature's resistance to amending disastrous criminal justice reforms that have made our streets more dangerous and victims more numerous, today's judicial confirmation makes it clear that they are as committed as ever to their radical agenda. Everyday New Yorkers' concerns over public safety and the direction of our state have been ignored yet again.  
Photo: File photo by Howard Owens.