May 5, 2021 - 12:00pm
Byron-Bergen's Jr./Sr. high principal named its district superintendent, begins about July 1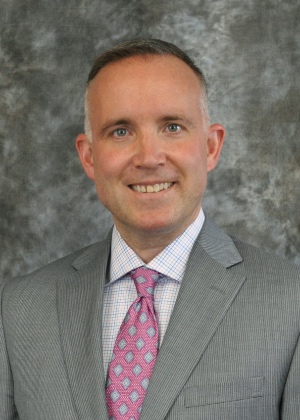 Submitted photo and press release:
The Byron-BergenCentral School District's Board of Education (BOE) has agreed in principle to name Patrick McGee as the next Superintendent of Schools. Formal approval by the BOE is expected at the May 11 BOE meeting. 
School Board President Debra List said McGee possesses the key qualities that the Board is seeking in a Superintendent. 
"As a visible and engaged leader, we are confident that Patrick McGee is the best choice for our district," List said. "We look forward to working with Patrick as we deliver the best education possible for our students."
"I am honored and grateful to the Board of Education for extending me the opportunity to serve as Byron-Bergen's next Superintendent," McGee said. "In my 14 years with the district, I have been privileged to wear many different hats as a teacher, a coach, the Junior/Senior High School Assistant Principal, and, for the last five years, the Junior/Senior High School Principal.
"I look forward to continuing Byron-Bergen's long tradition of community connection while focusing efforts on the job at hand: helping our students grow into the best students, citizens, and human beings they can be. While we are certainly navigating through unprecedented and challenging times, I have every intention of living and breathing our district's mission 'to inspire, prepare, and support using the values of compassion, humility, kindness, and persistence with a vision to change the world.' "
McGee has spent his entire career serving the Byron-Bergen Central School District. While the focus of his experience is teaching and as an administrator, he also serves as the Byron-Bergen Administration Union/Unit President and he has coached junior/senior high school sports.
McGee is a graduate of the Leadership Genesee Class of 2017 and received the GCASA Award in 2019. This award which is presented by Genesee/Orleans Council on Alcoholism and Substance Abuse (GCASA) recognizes outstanding advocacy of GCASA and its programs in schools.
He is currently the Principal of Byron-Bergen Junior/Senior High School, a position he has held since 2015. From 2013 until 2015, he served as the Assistant Principal of Byron-Bergen Junior/Senior High School. Before that, McGee was the Dean of Students from 2012 until 2013.
He began his career in education in 2007 as a fifth-grade teacher at Byron-Bergen Middle School and served in this role until 2012. Throughout his career at Byron-Bergen CS, he has served in many leadership capacities including overseeing and supporting the growth of a Video Coaching Model to assist teachers with professional development, increasing the number of Advanced Placement courses offered and implementing an agriculture program, and revitalizing an FFA Chapter. Under McGee's tenure, Byron-Bergen High School was named U.S. News Best High Schools for 2018, 2019 and 2020.
He holds a Bachelor of Science from St. John Fisher College in Elementary and Special Education, and a master's degree in Education, Curriculum and Instruction from the Buffalo State College. McGee earned a Certificate of Advanced Study in Educational Leadership from the University of Rochester and also holds New York State certifications as a School Building and District Leader, as well as Childhood Education and Students with Disabilities. 
McGee is expected to begin on or before July 1, pending successful contract negotiations.
Kevin MacDonald, district superintendent of Genesee Valley BOCES, acted as the search consultant and noted that the search process was a true collaboration between the Board of Education, district staff and community.