Image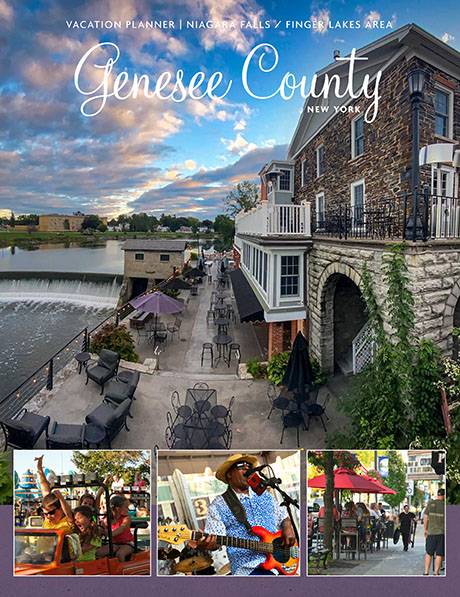 Press Release:
The Genesee County Chamber of Commerce is pleased to announce today's release of the 2022 Genesee County Visitors Guide. In total 80,000 guides will be distributed throughout New York State, Ontario Canada, and neighboring states, highlighting all Genesee County has to offer.

The tourism industry was hit hard by the pandemic, but the Chamber is confident that Genesee County's 2nd leading industry will have a strong return in 2022.  "This year's visitor guide is a reflection of what we've experienced these past 24 months as a destination marketing organization," said Kelly Rapone, Tourism Director at the Chamber. "Because of pandemic limitations and temporary closures of major attractions and large events, our messaging naturally shifted to highlighting opportunities to explore our quaint communities, experience our outdoor dining, nature parks & recreation," she said. You'll see this reflected on this year's cover, which beautifully captures the essence of one of our welcoming communities - Le Roy. The main image features Farmer's Creekside Tavern & Inn and depicts a relaxing experience that awaits in Genesee County.  Elyse VanZile is credited with capturing this beautiful picture. 

This cover is going to appeal to a broader travel market segment than what has historically been presented. To further compliment that, the Chamber will be shining a bright spotlight on our live music scene. Featured inside, you will see a page highlighting JamInGenesee.com, a new webpage that will launch in the coming weeks as part of an overall tourism website redesign.  From restaurants that feature acoustic artists, to bars and taverns with live music, local outdoor concert series and more, Genesee is in fact jamming!  The Chamber tourism staff has been working with local destinations, and area bands to promote nearly 100 live music events this year.   

Additional features this year include:

Six Flags Darien Lake is investing in the park again this year with the addition of a massive new water attraction, Wahoo Wave, an adrenaline-packed adventure sending riders into near vertical motions to experience extended hang times and zero g-forces. Also new the park's lodging is offering flexible stay options, with park admission being sold separately. Go from "room to zoom" at their rustic Lodge on the Lake Hotel, cabins, guest houses, RV's or campsites. 
A feature on Ely S. Parker's commemoration by the United States Mint to be featured on the 2022 Native American Dollar Coin.
Six pages highlighting our top outdoor nature assets, from the Iroquois National Wildlife Refuge, The Bergen Swamp and more.

The digital version of the visitor guide can be viewed here.  Visitors may request a free copy of the brochure on our website. Area residents that would like a copy can stop by the Chamber's Visitor Center at 8276 Park Road in Batavia beginning Tuesday, March 2nd.  This, and other local brochures can be found in our vestibule, which is open 24 hours a day, seven days a week.