Image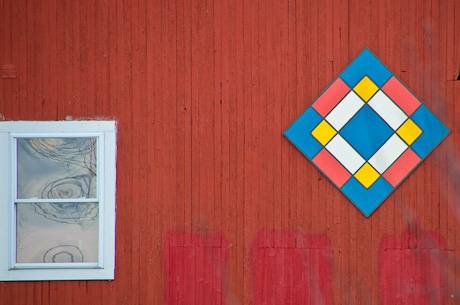 Press release:
The Genesee County Chamber of Commerce is pleased to announce that it has updated and expanded the Barn Quilt Trail of Le Roy, in cooperation with Le Roy Historian Lynne Belluscio and the Le Roy Historical Society, by launching a new website and new self-guided trail brochure.

The original 2012 Barn Quilt Trail began as a bicentennial project for the Town of Le Roy, with the first being painted in 2011 at the annual Oatka Festival. In the following 10 months, the trail surpassed its goal of 25, with over 70 barn quilts being painted and erected.

Today, the trail features a collection of over 100 hand-painted barn quilts along four driving tours in and around LeR oy. Explore the scenic countryside while spotting each unique barn quilt that's displayed on an array of barns, garages, homes and other outbuildings. Each quilt pattern has a story to tell, and these stories, along with full size images, can be found on the new LeRoyBarnQuilt.org website.

Barn Quilts are known to drive heritage tourism for rural communities as visitors search out authentic experiences that represent the stories and people, past and present, of the area. For Genesee County, the barn quilts have come to represent the pride shared by the people of LeRoy, a town with a rich agricultural heritage, deep appreciation of its history and immense pride in family heritage.

The Barn Quilt Trail expansion is supported through the Tourism Matching Funds program, administered by Empire State Development and I LOVE NY, New York State's Division of Tourism. 

The Chamber invites everyone to explore the trail and discover the beauty and history of the area. The brochure can be requested online at LeRoyBarnQuilt.org or picked up at the Chamber's Visitor Center at 8276 Park Road in Batavia. This, and other local brochures, can be found in our vestibule, which is open 24 hours a day, seven days a week. It will also be available in LeRoy this spring at the Town Hall, Village Hall, McDonald's, The D&R Depot Restaurant, JELL-O Gallery Museum and the Woodward Memorial Library. Watch for special Barn Quilts programming at the Woodward Memorial Library this spring.