May 3, 2021 - 11:15am
Director of Hollwedel Memorial Library named a NYS Outstanding Librarian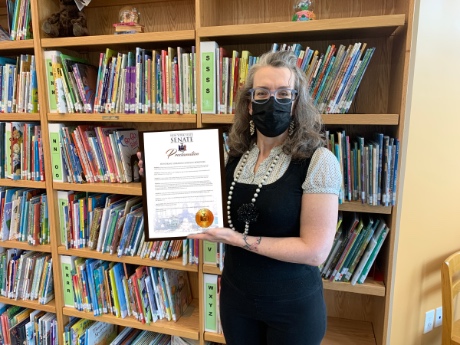 Submitted photo and press release:
New York State Senator Sean Ryan (NY 60th) has announced Josselyn Borowiec (photo above), director of the Hollwedel Memorial Library in Pavilion, as a winner of one of the 2021 NYS Outstanding Librarian Awards.
To mark National Library Week, Senator Ryan solicited nominations from across New York for librarians who go above and beyond to serve their communities. Nominations came in from every corner of the state, and a total of 11 winners were chosen. As an award winner, Borowiec received a framed New York State Senate Proclamation, which will be on display at the Hollwedel Memorial Library, located a 5 Woodrow Drive. 
Specifically, Senator Ryan recognized her leadership in growing the library's innovative programming, improving technology use and knowledge, effective use of the library's social media presence, and connecting with the Pavilion community. In addition, Senator Ryan noted that throughout the COVID-19 pandemic, she has worked tirelessly to maintain services for patrons.
National Library Week took place from April 4-10 this year in libraries all across the country. This annual celebration was first sponsored in 1958 by the American Library Association (ALA). 
The ALA's theme for 2021 is "Welcome to Your Library," and it promotes the idea that libraries extend beyond the four walls of a building – and that everyone is welcome to use their services. Whether people visit in person or virtually, libraries offer opportunities for everyone to explore new worlds and become their best selves through access to technology, multimedia content, and educational programs.
According to the Senator, "Libraries are pillars of our communities and our librarians are dedicated public servants who work every day to keep all of us informed, educate young people, and ensure our libraries are centers of knowledge and learning. During the past year, being a librarian has been especially difficult."
"I feel this award is a reflection on our great community and our Board of Trustees. It also speaks to what a terrific community treasure the Hollwedel Memorial Library really is. I am happy to be a part of it," says Borowiec. 
"Senator Ryan's recognition of the dedication of our library staff throughout the COVID-19 pandemic is a wonderful thank you for all of their efforts," says Joan Gray, president of the Board of Trustees. "But it is the community that inspires us."
Residents can find more information about the Hollwedel Memorial Library's programs and services on the library's website at www.HollwedelLibrary.org  or contact the library by phone at (585) 584-8843. 
Current library hours are: Monday and Wednesday 2 to 7 p.m. / Friday 1 to 5 p.m. / Saturday 10 a.m. to noon / Closed Tuesdays, Thursdays and Sundays.