May 8, 2022 - 3:37am
Elba Lancers lose to Northstar, 10-3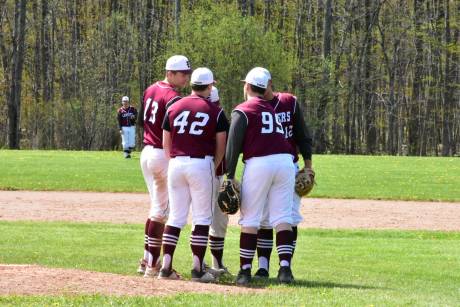 Press release:
Northstar Christian Academy downed Elba 10-3 in varsity baseball action Saturday at the Field of Dreams in Alexander.

Tim Leary collected the victory on the mound for Northstar, striking out eight while allowing six hits.

The Knights were led by Dominic Kurmis with three hits, including an RBI double and AJ Mitchell added a team-high four RBI on two hits.

The Lancers stayed in it for six innings behind strong pitching by Caden Muehlig. Muehlig went the distance for Elba, allowing four runs over the last six innings, striking out eight.

Jayden Allport led Elba with two hits and an RBI, while Lucas Walls smacked an RBI double. Hunter Gaylord, Connor Scott and Jake Engle also added hits for Elba.

In the second game of the day for Elba, the Lancers fell to Byron-Bergen 6-2.

Carter Prinzi and Brody Baubie led Byron-Bergen at the plate with two hits apiece. Braeden Chambry also singled for the Bees.

Baubie and David Brumsted combined to strikeout nine with Brumsted earning the win.

Elba got six strong innings on the mound from Scott, as the junior hurler struck out 11. Tyler Kauffman, Gaylord and Walls had hits for the Lancers.