February 2, 2022 - 6:53pm
Excelsior Energy donates $500 to Meals on Wheels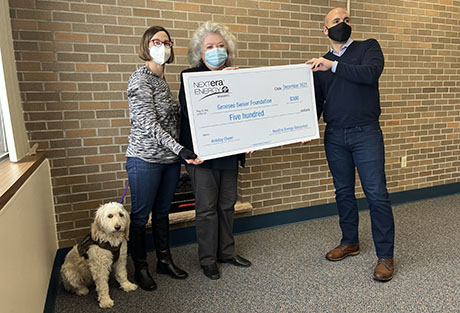 Press release:
Excelsior Energy Center presented the Genesee County Office for the Aging Meals on Wheels program through the Genesee Senior Foundation with $500.00. This donation will provide necessary aid, supplies, and resources for Genesee County for residents 60 years of age and older, their caregivers, as well as disabled persons of all ages.

The Genesee County Office for the Aging operates a nutrition program that provides a daily nutritionally balanced hot meal to older persons. Besides promoting health and nutrition, this program is designed to provide opportunities to socialize with others and to improve access to a variety of social and health services.

Frances McNulty, Genesee Senior Foundation Chairperson, and Genesee County Office of the Aging Director, Diana Fox joined Excelsior Energy Center to receive the donation on Friday morning. "NextEra Energy Resources will be helping us supplement home delivered meal cost," said Diana Fox. Over $300,000 a year goes towards feeding people here in Genesee County.

"As a partner in the community donating to the Meals on Wheels program will provide many community members with a better way of life,' said José De Armas, Project Director. "The Excelsior Energy Project will create new jobs, generate long-term revenue, and deliver economic development to Genesee County and the Town of Byron."

Meals are available, Monday through Friday, at one or more of the five congregate meal sites in the county and through the Home Delivered Meal program. Visit the Genesee County Office of the Aging website, here, to learn more.
Photo by Howard Owens