September 10, 2020 - 12:24pm
Free distribution of face masks, hand sanitizer Saturday morning at fire stations in Batavia, Corfu, Le Roy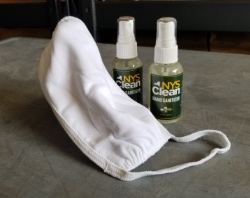 Submitted photo and press release:
On Saturday, Sept. 12, members of the City of Batavia Fire Department, volunteer Corfu Rescue Hook and Ladder Company #1, and the Le Roy Fire Department will be participating in a mask and hand-sanitizer distribution for residents of Genesee County in response to New York State Department of Health Guidelines.
The FREE distribution of washable, cloth masks and hand sanitizer will take place from 9 to 11 a.m. at:
City of Batavia Fire Station – 18 Evans St., Batavia
Corfu Fire Station – 116 E. Main St., Corfu
Le Roy Fire Station – 4 Clay St., Le Roy
Genesee County Office of Emergency Management reminds everyone to WEAR A MASK. Protect your community. Stop the spread of coronavirus. Be respectful.