March 6, 2022 - 5:40pm
Try Hockey Free clinic big hit with 34 area children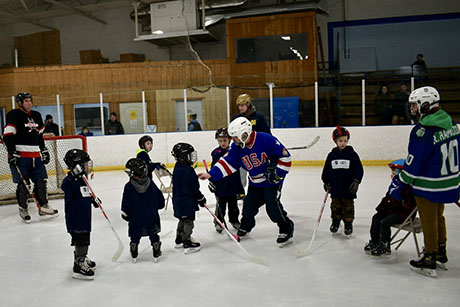 Press release:
Genesee Amateur Hockey Association hosted 34 children at the Batavia Ice Rink (aka The David McCarthy Memorial Ice Area) on Evans Street on Saturday, March 5th for a Try Hockey For Free clinic as part of  USA Hockey  Week  Across  America.  Starting at 111:50 a.m. to 12:50 p.m. local youth, ages 4 to 9, were welcomed at the Rink to experience getting on the ice, learning how to "skate", get up after falling, basic skills with a hockey stick, and shooting punks into a hockey net (all by being guided by the head coach and on-ice helpers).

"We look forward to welcoming families to Batavia Ice Rink to try our great sport of ice hockey," said Sharon Gray, Coordinator of the "Try Hockey for Free" event.  "Our goal is for these families to enjoy watching their kids learn new skills with big smiles on their faces."

The head coach for today's event is Erik Triftshauser along with Fred Hamilton – both with more than 20 years plus starting out as GAHA players, high school players and GAHA coaches over the years.  Their on-ice helpers are mostly from this year's United high school teams along with the sons.

The event is hosted by the Try Hockey for Free Coordinators – Sharon and Bob Gray and the GAHA Beginner Player Coordinator – Marcia Barnes.  It is the team's goal to provide the hockey experience to area youngsters free of charge and encourage them to come October become a player in the GAHA Beginner Program which starts the first week of October.  The Beginner Program consists of two sessions (October to December and January to March) with a total of 15 on-ice hours per session.

The skates used by the youngsters are being provided "free of charge" by the Firland Rink Management Group.

USA Hockey's Try Hockey program, with the support of the National Hockey League and NHL member clubs, among others, is designed to provide youth hockey associations with a national platform for introducing children to the sport, free of charge. 
Photos by Erin Staley.