March 5, 2016 - 1:17pm
Chamber Awards: Barry Miller had outsized impact on community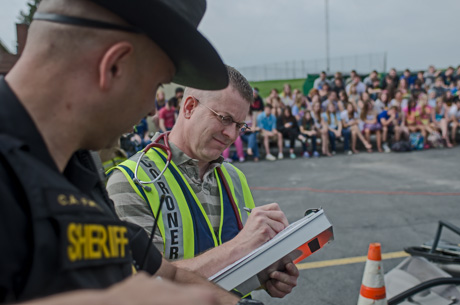 (File photo: Barry Miller serves as Genesee County coroner during a May 2014 DWI drill at Pavilion High School.)
The posthumous recognition of Barry Miller by the Genesee County Chamber of Commerce, is a reminder of the positive difference one individual can make in his community.
Miller, a lifelong Bergen resident and volunteer firefighter, died Sept. 23, 2015, while aboard an ambulance responding to an emergency call. He has been chosen by the Chamber as a 2015 Geneseean of the Year.
"I think what you could learn from Barry's life, is that you can have an impact if you're willing to put in the time," said Don Cunningham, Bergen's town supervisor.
"It takes a lot of dedication, and Barry was willing to give that dedication," he said.
Miller, 50, grew up on Buffalo Street, the son of Tracy and Loretta Miller. He graduated from Byron-Bergen High School in 1983. He was the owner of Miller's Millworks, a custom-designed furniture business he started in his basement and eventually located on Lake Avenue in Bergen. He also owned the Beaver River Lodge in the Adirondacks
Miller was passionate about emergency services. He joined the Bergen Fire Department when he was 18, and continued to volunteer for 31 years. For the past decade he had been the department's chief of Emergency Medical Services.
He started the fire department's Explorers Program, and was also a Genesee County coroner.
Cunningham grew up with Miller, but established a close friendship while they were both serving on the Bergen Town Board. "His mind was always going," Cunningham said. "He always had ideas for things, and he was driven to follow through."
"It was just constant. Fundraisers, local projects — he had his hand in everything."
What made Miller unique, Cunningham said, was that he was drawn to respond to emergency medical situations. But community causes especially close to his heart, were those dedicated to children, and battered women.
Whatever the situation — a fire alarm or a fundraiser — it seemed like Miller was always "the first guy on the call."
"That's what makes his loss so profound," he said. "There are not that many people like him, and in a small community, when you lose that individual, it leaves a big void."