March 15, 2023 - 5:16pm
Batavia's Indoor Track teams make strong showing at Nike Nationals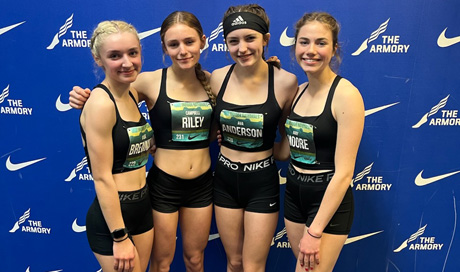 Submitted by Coach Nick Burk:
The Batavia Indoor Track Team competed at the Nike Nationals meet this past weekend in New York City at the Armory Track and Field and had many outstanding performances!

The Blue Devils' throwers were well represented at the national meet, with five athletes competing. 

Parker Kleinbach earned a second-place finish in the Weight Throw with a distance of 57' - 6.25" while Sheldon Siverling placed 16th (51' - 3.75") and Mathew Mcwethy placed 25th (48' - 4").  Sheldon also competed in the Shot Put and earned a ninth place finish as well with a distance of 50' - 1.25". Sheldon has thrown the Shot Put over 50' multiple times in the last four weeks, which is very impressive considering he is only a sophomore.

The Blue Devils had two girls qualify in the Weight Throw as well, with Ava Wierda medaling with a 4th place finish and a distance of 41' - 10" and Drew Stevens placing 22nd with a throw of 35' - 11.5".  Both of these ladies had over two foot personal best throws in this meet and definitely were excited about their performances.  

Once again, the Blue Devils have demonstrated that we are one of the premier teams for throwers in the State and have continued an impressive streak of fifteen years with State and National caliber throwers.  Coach Geiger does an amazing job in developing these athletes and has built a training structure that is second to none in our area for throws competitors.

Our Boys sprinters had a phenomenal showing at the Nike Nationals meet as well, with both our 4x200 and 4x400 Relays qualifying to compete.  The 4x200 with Fabian Vazquez, Aidan Anderson, Parris Price, and Cole Grazioplene finished in 13th place with a time of 1:34.20.   This was the second fastest time in program history and a very competitive race for these athletes.   Our 4x400 Relay, which was our last race, finished in fifth place, earning a medal with a time of 3:29.40.  This performance is a new school record, the first time we've had a team run under 3:30 in program history, and the fastest time of any team in Section V this season.  Relay members included Fabian Vazquez, Parris Price, Ryan Dillon, and Cole Grazioplene.  Finally, Fabian Vazquez was able to compete in the 60m Hurdles and add to his very impressive hurdle resume with a time of 8.84 and a 29th-place finish.

Our Girls were able to compete in multiple relays as well, with the Sprint Medley Relay (200m - 200m - 400m - 800m) earning a nineth place finish with a time of 4:25.07.  Relay members included Kylee Brenna (200m), Ava Anderson (200m), Abby Moore (400m), and Campbell Riley (800m).  This was a very competitive performance by these young ladies, three of whom return next season.  Our girls 4x800 had an incredible race running the 2nd fastest time in program history and only missing the school record by 1 second.  Nicole Doeringer, Jadyn Boyce, Izzy Scott, and Campbell Riley finished in 9th place with a time of 9:59.05.  All four of these young ladies ran very tough and were a great example of our Blue Devil pride during this meet!  

Not to be outdone, the Boys 4x800 Relay was able to have a similar bittersweet outcome with a phenomenal race as well.  Relay members included Cody Harloff, Donavin Solis, Noah Pickard, and Nate Canale.  These athletes earned a 17th-place finish in the boy's race in a time of 8:21.62 which is also only one second off the school record (from 1986) in this event.   The Blue Devils distance program led by Coaches Rich Boyce and William Buckenmeyer continues to have impressive results season after season.  Our distance athletes, time and again, display toughness and competitiveness, particularly in these big meets!

Mallory Boyce, our youngest team member competing at Nationals, was able to qualify in multiple events and had a fine showing as well.   She competed in the middle school Mile and 400m.  In the 400m she ran a new personal best time of 1:06.9 and placed 33rd.  In the Mile run, she had a time of 5:30.33 and placed 44th.  As an 8th grader, this was an outstanding opportunity to compete in a big showcase meet and gain valuable experience for the future.

Our biggest performance came from the mixed 4x400 Relay consisting of Ryan Dillon, Nicole Doeringer, Jadyn Boyce, and Nate Canale.  They ran a terrific race and competed in the top-seeded race finishing in 5th place with a time of 3:54.96.  This time established a new school record for this event but also earned these four athletes High School All-American Status for Track and Field. We are so proud to have had the opportunity to run in this race, and these athletes rose to the occasion.

Altogether, Batavia had 22 athletes compete at the Nike Nationals this season in a three-day competition with thousands of athletes from across the country.  This was a tremendous finish to our indoor season, which included two Sectional Championships, multiple qualifiers for the State Championships, and culminating with an unbelievable experience at Nationals in New York.  Congrats to all of the Blue Devils that participated during this incredible season!
Submitted photos.