October 14, 2017 - 7:30am
Batavia closes regular season dominating St. Mary's 69-20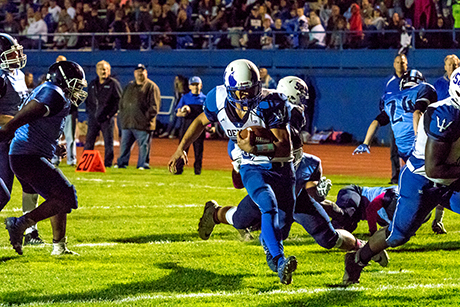 St. Mary's football squad left Woodward Field a bit crushed on Friday the 13th after the Blue Devils steamrolled the visitors on their way to a school-record 69 points in a game.
Batavia won its final regular season match 69-20.
On the record-setting night, Batavia's kicker Alec Wagner also put his name in the books by going nine for 10 on extra point attempts and finishing the regular season with 30. The previous school record was 28.
The team's total point record stood for 55 years. 
Junior Ray Leach carried the ball 15 times for 106 yards for five touchdowns. He also scored on a 22-yard interception. Senior Chandler Baker was four for four passing, 75 total yards, and one touchdown. He scored a touchdown on a 45-yard punt return and 70-yard kickoff return.
Andrew Francis scored a touchdown on a 24-yard pass from Baker.
Batavia's Defensive stats: John Kindig had six tackles, three for a loss, one sack, and one fumble recovery. Nick Neid made 11 tackles, two for a loss. Anthony Ray made four tackles, all for a loss. Josh Barber had seven tackles, three for a loss. Alex Rood made four tackles, one for a loss, two sacks and one interception.
St. Mary's scoring summary: D'Jae Terry scored two touchdowns, one of them on an 85-yard kickoff return and a 75-yard run from the line of scrimmage. Quarterback J'Shawn Collins scored on a 57-yard run. St. Mary's scored only two points on three extra point attempts.
To view or purchase photos, click here: http://steveognibenephotography.zenfolio.com/p532489889