June 10, 2016 - 8:00am
Batavia High School sending three to state finals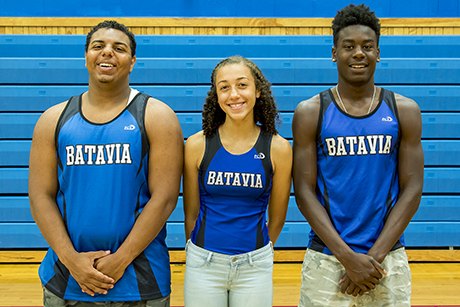 Press Release submitted by Batavia Outdoor track Coach Nicholas Burk.
Three Batavia track and field athletes will be competing in the 2016 NYSPHSAA Track & Field Championships, today and tomorrow, June 10-11, at Cicero-North Syracuse High School.
Anthony Ray (pictured far left) has had a very dominant spring in the throwing events for the Blue Devils as he was undefeated in the Shot Put and Discus during our Monroe County League schedule, earned 1st Team All Monroe County, and also won Shot and Disc at the Section V Championships.
Batavia has had a boy or girl thrower compete at the State meet, both indoors and outdoors every year under throws Coach Dan Geiger. The Blue Devil's track team is recognized as having a very strong Throws Program over the past decade. Anthony was fortunate to qualify for the Indoor State Championships in the Shot Put and Indoor Nationals in the Weight Throw this past winter and will compete in the Shot and Disc today. He goes into the meet seeded ninth in Shot and 11th in Disc.
Kiaya Franklin will be on the track for her two events as she qualified in the 200m and the 400m. Both of these events will be held today, with the chance to qualify for the finals on Saturday. Kiaya is also coming off a State meet performance for Indoor Track this past winter. Earlier this outdoor season, she captured Section V championships in the 100m, 200m, and 400m. She goes into the State meet this weekend seeded sixth in both her events with a very good chance to medal in both.
Adonis Davis (pictured far right) will compete for the first time at the State Championships for track and field and is seeded third in the Triple Jump. He is coming off a very impressive season having earned 1st team Monroe County in Triple and High Jump and won Sectionals in both events as well. Adonis is considering competing in track and field at Brockport State next year.
All three Batavia athletes helped the track team win Sectional Championships two weeks ago and now have the opportunity for some individual success at States. Good luck to our Blue Devil athletes this weekend in Syracuse.
For complete LIVE results for this weekends New York State Meet click here: http://www.nysphsaa.org/Sports/Spring/Track/ChampionshipNewsVideo.aspx