August 24, 2017 - 5:30pm
Boy Scout seeking community volunteers for Saturday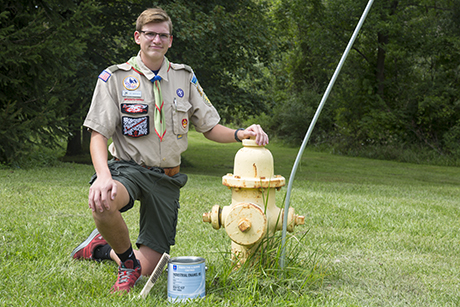 Batavia Boy Scout Troop 6006 Joe Marchese is posing with one of 18 fire hydrants he plans to refurbish the outside of them this Saturday, Aug. 26th. He is looking for people willing to donate their time to help with his Eagle project.
It will benefit the Town of Batavia on Edgewood Drive, Woodland Drive, Valle Drive and Fairway Drive. Supplies suggested to bring, if possible if you have on hand, are wire brushes and paint brushes but this is not mandatory.
Please meet at 29 Edgewood Drive, Batavia, at 8:30 a.m. until 4 p.m. this Saturday.
For more information please contact Joe at 585-343-3784. Refreshments will be provided during the day and food afterward.