March 13, 2018 - 8:10am
Girls softball team receives check from Batavia's Original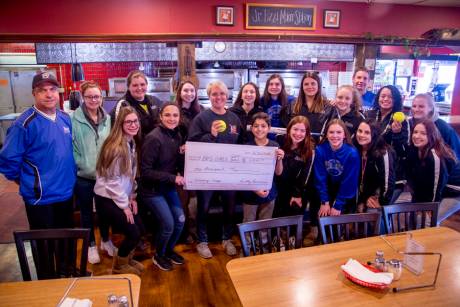 Head Coach Jim Fazio (far left) with Assistant Coach Mark Janes (far right) along with members of Batavia High School Girls Softball Team receive a check for $1,000 from owner Kathy Ferrara yesterday afternoon at Batavia's Original Pizzeria, Batavia. 
The girls did a great job promoting this event and in honor of International Womans Day on March 8th, Ferrara said she decided to match their fundraising efforts.
"I believe empowering women is important in our community and these young ladies represent a strong future, so I wanted to help them raise funds towards their trip," she said.
The team has been fundaising since December when they saw an opportunity to play ball in Myrtle Beach, S.C., and add games to their schedule in warmer weather.