March 3, 2018 - 7:58pm
Pack 6069 Annual Pinewood Derby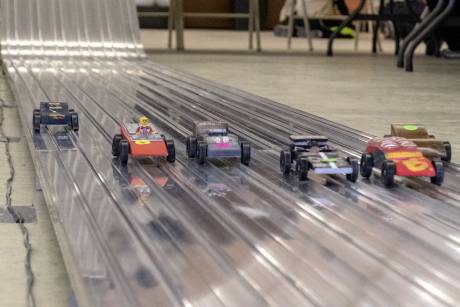 Twenty racers from Cub Scout pack 6069 of Batavia were registered with their cars to do their best in the annual Pinewood Derby held at the First United Methodist Church this morning.
Pack den leader Lisa Brown said she has been with the pack for 13 years of its 48 years of existence. Boys competed in their age-appropriate den. Tigers, Wolves, Bears, Weblos I and II. A lot of parents, grandparents look forward to watching the race and it's a lot of fun for boys to participate.
Track official Paul Crowley said there are four heats and boys get a chance to race in different lanes. Den Leader heather Crowley said all the kids get a trophy in addition to the first-, second-, third-place finishers.
Sixteen extra trophys were also given out to the boys for best color, most Cub Scout pride, super racer and aerodynamic to name a few.
This fall there will be a new "Lion's" den added for kindergarteners.  
Anyone interested to join contact Cub Master Tony Merica at [email protected]  
Pack 6069 meets at Jackson School when in session September through June at 6:39 p.m. on Mondays.