March 16, 2016 - 9:15am
Pancake Breakfast this Sunday for Catholic education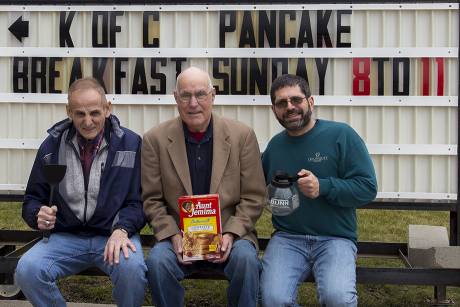 The Monsignor Kirby Council #325 Knights of Columbus will be holding their semiannual pancake breakfast this Sunday at Resurrection Parish (St. Mary's Worship Site) at 18 Ellicott St. in Batavia from 8-11 a.m.
This is open to the public and costs $5 adults, $3 for children age 4 to 12; kids under 3 eat free. All-you-can-eat pancakes, breakfast includes sausage, eggs, juice, coffee, tea, milk.  
There will be basket raffles from many local businesses and also a 50/50 drawing. Tickets can be purchased at the door and all proceeds will support local Catholic schools education.
Pictured above from left are co-chairman Joe Gerace, Grand Knight Brad Rogers and co-chairman Steve Ognibene.