April 27, 2018 - 7:20am
Photos: Boys baseball -- Batavia dominates Greece Olympia 9-1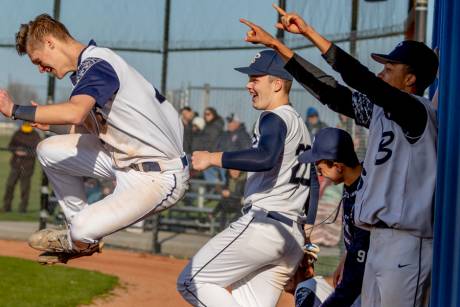 Batavia High School Boys Baseball Team celebrates a big fourth inning, six-run lead to beat visiting Greece Olympia by a score of 9-1 at Genesee Community College, Batavia, Thursday afternoon.
Senior Jordyn Schmidt (pictured below) picked up the win on the mound allowing two hits, one run and six strikeouts for the Blue Devils.
Brandon Betances, Chandler Baker and Andrew Frances got hits for Batavia as the Devils remain undefeated with three wins and are 3-1 overall on the year.
Next game will be home on Saturday vs. Pittsford Sutherland at GCC.
For more game photos click here.