September 15, 2016 - 6:00am
Photos: Cecere breaks school record, Lady Devils win 2-0 over HFL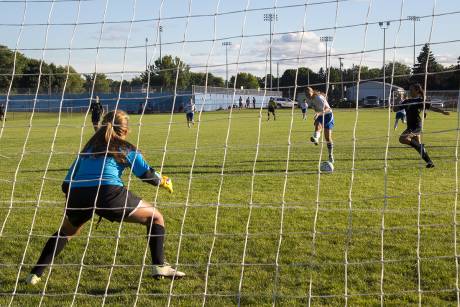 In the photo above, senior Maggie Cecere is kicking in her second goal of the afternoon at Batavia High School, breaking a girls and boys soccer school record that was held since 1996 by Julie Redband Varland with 37 goals in a high school career.
Her 38th goal was recorded in the second half of the game with 14 minutes left and assisted by Junior Sophia Dinehart. Batavia won 2-0 over Honeoye Falls-Lima.
Maggie tied the school record scoring 20 minutes into the first half off a pass from senior Ali Moore. Shots on goal after the half were 9-1 Batavia.
Batavia came out a little sluggish in the second half but their defense held tough. Second-half shots were 7-5 Batavia.
Maggie's father, Assistant Coach Peter Cecere, embraced his daughter at the completion of the game along with teammates who celebrated their first home win; their record increases to 5-1. Batavia Head Coach Roger Hume is very proud of his team starting off strong and hope it continues into their next game -- away vs. Eastridge, Friday night at 7.
To view more photos and to purchase prints click here.