April 25, 2019 - 7:40am
Reinhart's home run ignites Devils with 9-6 victory over Greece Odyssey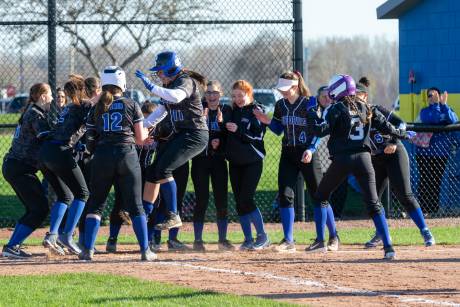 The Batavia varsity softball team bounced back from their previous game and defeated Monroe County Division 4 opponent Greece Odyssey by a score of 9-6 in a game played yesterday afternoon at Genesee Community College. 
Alyssa Ognibene, in her first ever varsity start, picked up her first varsity victory as she spun a complete game with five strikeouts and scattering six hits. 
Maiya Reinhart went 4-4 at the plate, hitting for the cycle, including a solo home run, towering fly ball over the left corner fence (photo celebrated above with teammates). Reinhart drove in three runs for the Lady Devils. 
Jenae Colkey collected three singles and an RBI for the Lady Devils, while Ryann Stefaniak, Bryn Wormley, Mackenzie Reigle, Sonji Warner, Dallas Lama, Irelyn Curry, and Natalie Rogers also hit safely. Rhorri Fix put down a perfect bunt for a base hit, while Julia Clark played very well defensively. 
With the win, Batavia moves to 1-0 in league play and 2-1 overall.
To view or purchase photos, click here.