June 17, 2016 - 8:00am
Rotary Fly-In Father's Day Breakfast & Grand Opening Tour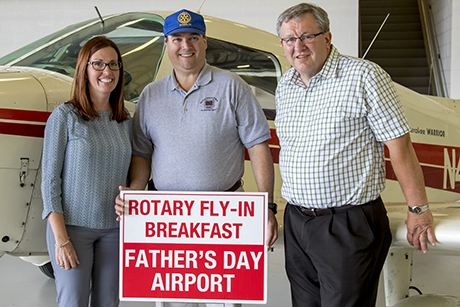 Batavia Rotary Club's 14th annual Father's Day Fly-In Pancake breakfast will be from 7 a.m. to noon this Sunday, June 19, at the Genesee County Airport, 4701 Saile Drive, Batavia. The menu consists of pancakes, scrambled eggs, omelets, sausage, coffee, tea, milk and juice.
Tickets are $8 for adults and $5 for children 4-12; children under 4 are free.
"We normally serve about 1,500 people but expect over 2,000 people because it coincides with the grand opening of the new Genesee County Airport terminal," said breakfast Chairman Paul Marchese.
Presale tickets are available from any Rotarian, Marchese Computer, or can be purchased at door for the same price.
All of the proceeds are used by Batavia Rotary to support many local agencies as well as help fund our college scholarships given to three outstanding high school graduates from Batavia, Notre Dame and Genesee Valley Educational Partnership.
Treat your dad, grandpa and yourself to a great breakfast at the Genesee County Airport this Father's Day.
Pictured from left, Rotarian Susie Ott, Paul Marchese, chairman of the breakfast event, and Batavia Rotary Co-President Paul Saskowski.