May 30, 2018 - 10:42am
Sectional softball: Class A2 Final, Batavia 3 Pittsford Sutherland 12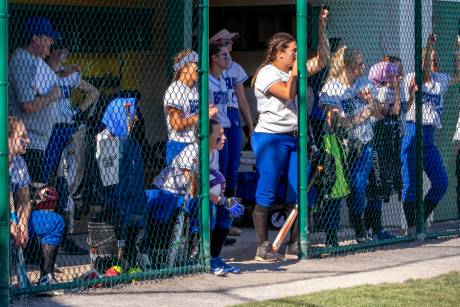 A disappointed Batavia bench overlooks the final moments ending their season and chance of a sectional crown, losing to class A2 rivals Pittsford Sutherland 12-3 at SUNY Brockport yesterday afternoon. This is the second time the Knights have beat the lady Devils in back-to-back seasons.
After the first inning game tied 1-1, Sutherland took the lead in the bottom of the third 4-1, which left Batavia craving for some runs early on.
Top of the fourth inning, Batavia looking to tie the game, in scoring position with bases loaded and only one out. Sutherland sophomore pitcher Grace Fanset came up big getting the next two outs.
Pitcher Fancet (pictured below) hit a three-run home run with other teammates scoring. Score after four innings: 11-1 Sutherland. Lady Devils scored two runs in the top of the fifth inning, then stranded the bases loaded. Batavia left 12 runners on base for the game.
Final 12-3. First year Head Coach James Fazio commented after the game:
"The Batavia High School Softball Team just finished their season falling to Pittsford Sutherland in the Class A2 Sectional Finals. Batavia began their season down in Myrtle Beach (S.C.) and played a very difficult schedule to get ready for sectional play.
"Batavia started off their season at 3-5, but then won eight out of their next 10 games and were playing their best softball of the season heading into sectionals. Batavia won the Pembroke tournament recently and was named Co-champions of Monroe County Division 4 with a 7-1 record with their only loss coming to HFL, who then they would beat in the first round of sectionals.
"Batavia then defeated #1 seed SOTA in the semifinals before losing to Sutherland. The team graduates seniors Kaitlin Ange, Alaina Bowman, Bri Janes, and Taylor Stefaniak and those players will be greatly missed. The team has a number of returning players and players up from Junior Varsity that will form a very competitive team next season."
Click here for more game photos.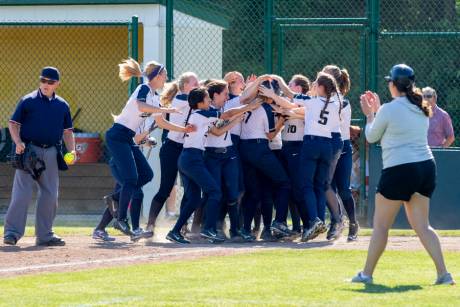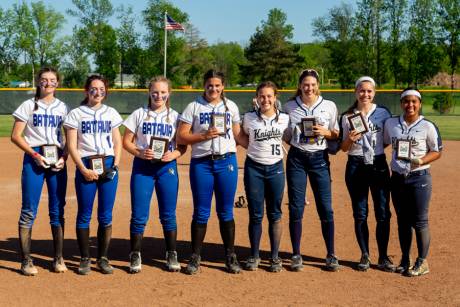 Class A2 tournament all stars from Batavia and Pittsford Sutherland