Image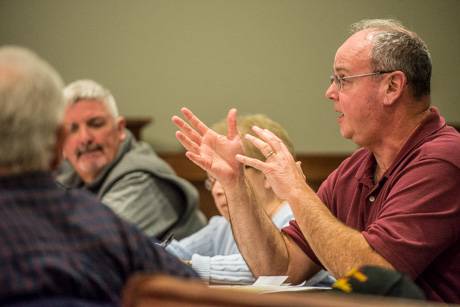 It's a decade since the national home mortgage meltdown but there are still communities plagued by vacant and abandoned properties, including in Western New York, including the Town and Village of Le Roy.
There are about 20 properties in the town and village, Town Supervisor Steve Barbeau (top photo) said last night, that are at a minimum unsightly, but they also present a health and safety issue.
In many cases, if not all, the properties are banked owned and the financial institutions show little interest in dealing with the properties.
"Almost all of these properties are uninhabitable," Barbeau said. "They haven't been inhabited for years. We're not talking about 30 days, or 90 days, or 365 days. There are a few in here, as I eyeball it, where it's been three or four years, most of all the rest of them have been vacant for a decade."
To help deal with the issue, the town and village of teamed up to write a new ordinance that would define vacant and abandoned properties and put some pressure on the title holders to sell the parcels, including a fee that could cost a property owner as much as $1,500 a year if the building continues to sit vacant.
Village and Town officials held a public hearing on the proposed ordinance at the Town Hall last night.
A few of the residents who turned out to speak were either skeptical about the ordinance as written or downright hostile to the idea.
The way Jason Shu has read the ordinance is that if he went on vacation for six weeks, the code enforcement officer could declare his property vacant and abandoned and he would either have to sign a waiver to allow the code enforcement officer to enter the property or pay a fine. He called the law overly broad, subject to selective enforcement, and a potential violation of his Fourth Amendment rights.
"I agree with the whole problem of abandoned property but there's a different approach to it," Shu said. "It doesn't seem right. It doesn't seem fair. The selective enforcement is only going to lead to problems."
Both Barbeau and the town's attorney Reid Whiting said that isn't how the ordinance works.
First, Barbeau said, the ordinance defines temporary vacancy and seasonal use, which would cover a six-week vacation, and the 30-day clock for registering the house wouldn't begin until after a code enforcement officer determined the property appeared to be abandoned.
There are a number of criteria the officer would weigh to make that determination, such as that nobody is living in the house, it's devoid of contents, lacks utility services, is or has been subject to foreclosure, and code violations.
Properties determined "temporarily vacant" would not be required to register as vacant and abandoned.
Whiting said there is no violation of the Fourth Amendment because either the property owner voluntarily signs a waiver or the code enforcement officer would be required to get a warrant to enter the property from a judge.
Leonard Dries attacked the law as a violation of private property rights, yet another high New York tax, and accused Le Roy's elected officials of not listening to his concerns.
Because of the law, he said, which he says is a violation of property rights, the town or the village will end up getting sued.
"You're going to start doing all this stuff on these properties and you're going to bite the wrong hand and the lawsuit is going to overwhelm you," Dries said.
At times he interrupted other speakers or tried to shout them down.
One of the properties of concern discussed during the meeting is the boarded-up residence next to the Le Roy House. Historian Lynn Belluscio said she fields constant complaints from visitors about the unsightly building.
"They come to us and want to know why Le Roy can't deal with that property next door," she said.
Dries responded, "Then don't look at it. Tell them not to look at it."
" I'm going to tell 10,000 people -- " Belluscio said.
"-- you don't get 10,000 people, you don't 100 people a day coming through. Le Roy is a dead town," Dries said.
Barbeau rose from his chair and said Dries was out of order.
"That's what we get to live with twice a month," he said. 
"Oh listen, Stevie Bo-Bo, sit down and shut up," Dries said. "You are paid by my tax dollars. I don't want to hear your mouth."
Barbeau managed to restore order and the meeting continued.
Belluscio said the Jell-O Museum has made four attempts to buy the abandoned property, but that bank, based in Hong Kong, won't budge on its $119,000 asking price. Belluscio said she couldn't be irresponsible with how she spends the nonprofit's money and the house isn't worth $119,000 with all of the damage. The bank doesn't want to take the loss, though, of selling it for less.
"They really don't have an incentive to sell," Belluscio said. "They sit back and wait as long as they possibly can. They don't care that the house has deteriorated."
Dealing with bank-owned properties is exactly why the new law is needed, said Mayor Greg Rogers (bottom photo), who is also a real estate agent.
"We felt some of our neighborhoods need to have some of these properties picked up and cleaned up," Rogers said. "Or at least give the owners, and a lot of times it's banks, further incentive to try to get these back on the market and be viable properties.
"If you live in one o those neighborhoods next to an abandoned house, that becomes an issue and it becomes an issue for the street," Rogers added.
Barbeau added later, "if anybody argues that it doesn't depress the values of properties around it, they don't have a clue."
Image