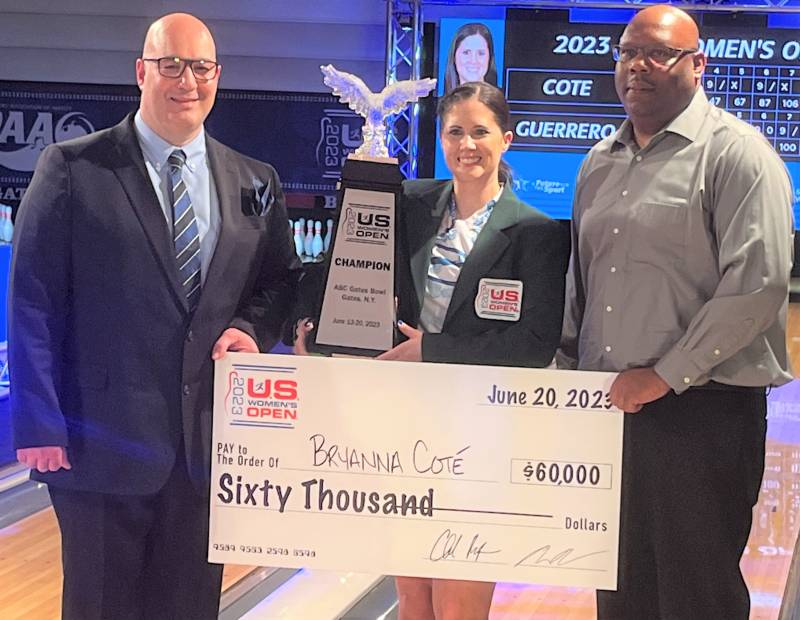 Coming off a 248 game in the semifinal match, Bryanna Coté of Tucson, Ariz., had to feel confident as she faced top-seeded Clara Guerrero of Columbia for the U.S. Women's Open championship Tuesday night.
The road to her first major tournament victory became an extremely bumpy one, however, in the title match as Coté overcame opens in the first three frames to turn back Guerrero, 153-142, for the $60,000 top prize before an enthusiastic crowd at ABC Gates Bowl in Rochester.
The stepladder finals, featuring the top five of the 108 entrants, was televised live on CBS Sports Network.
When asked what changed from her 248-199 win over fifth-seeded Danielle McEwan of Stony Point, Coté said it was a matter of "adrenaline kicking in a little bit."
"When you're bowling for the U.S. Open title and the adrenaline doesn't kick in, something (wrong) is going on," said Coté, the Professional Women's Bowling Association Player of the Year in 2021. "The lanes definitely got the best of me the first few frames but I settled in and thought I started making some good shots on the right lane and it still kind of wiggled. I was making good shots on the left lane, so I just made a decision to try different balls."
Calling it "a gutsy move" to make a ball change, Coté said she had to "take a big risk to win the big trophy."
After Guerrero failed to convert the 2-4-10 split in the 10th frame – her fourth open frame of the game, Coté stepped up in the 10th needing nine pins on two balls to secure the win.
The ball came high on the head pin and the 3-6-10 was left standing. Coté had to get at least two of those pins for the victory and she did that and one more, converting the spare. She got eight pins on her final ball for the 153.
This is the fifth PWBA crown for Coté, a 37-year-old right-hander.
"To be a major champion now is just incredible," she said.
For Guerrero, who posted a tournament-high 209.7 average for 56 games, the loss was a bitter pill to swallow.
She started with a spare and strike but didn't record another strike – failing to convert a split and two spares before the disastrous 10th frame.
"I felt good. I felt calm and I felt confident, but for some reason I couldn't throw it as good as I needed," said Guerrero, an international tournament star with one PWBA major title under her belt. "The lanes were very hard all week. I mean, a 140 or 150 game was coming."
She was unable to keep the ball to the right of the head pin all game.
"I needed to keep my hand a bit cleaner (as far as the release), but I kept grabbing it a bit and that's why the ball kept hooking," she explained. "I moved a bit left (on the approach) in the 10th frame and thought it was a good shot, but it hydroplaned a bit and left the 2-4-10."
Guerrero, who won $30,000 for placing second, didn't hold back her disappointment.
"I have won Women's World Championships (a separate tour) several times and have had a beautiful career," she said, "however, this one hurts. I had a great week. I led the tournament, which isn't easy to do, but not being able to close it out, it's a tough day."
The stepladder finals began with a pair of New Yorkers battling it out, with McEwan edging six-time U.S. Open champion Liz Johnson of Niagara Falls, 212-201.
McEwan rolled six strikes in the match, including a double entering the 10th frame. Another strike in the 10th would have locked it up but she left a solid 10-pin, giving Johnson a chance.
With strikes in the eighth and ninth frames, Johnson had to get another on the first ball in the 10th but left a 10-pin as the ball finished a bit late.
"It was in the right spot; it just didn't come off my hand great. I may have squeezed it a little bit, but I bowled a good game," said Johnson, who has 25 PWBA titles. "It was not an easy shot this week, so I'm happy the way I finished. You always want to win, of course, but I got fifth in the U.S. Open."
McEwan went on to defeat two-time United States Bowling Congress Queens champion Diana Zavjalova of Latvia in the second match, 227-192, to advance against Coté.
FINAL STANDINGS
1, Bryanna Coté, Tucson, Ariz., 401 (two games), $60,000.
2, Clara Guerrero, Colombia, 142 (one game), $30,000.
3, Danielle McEwan, Stony Point, N.Y., 638 (three games), $22,000.
4, Diana Zavjalova, Latvia, 192 (one game), $17,000.
5, Liz Johnson, Niagara Falls, N.Y., 201 (one game), $13,000.
STEPLADDER RESULTS
Match No. 1 – McEwan def. Johnson, 212-201.
Match No. 2 – McEwan def. Zavjalova, 227-192.
Semifinal – Coté def. McEwan, 248-199.
Championship – Coté def. Guerrero, 153-142.