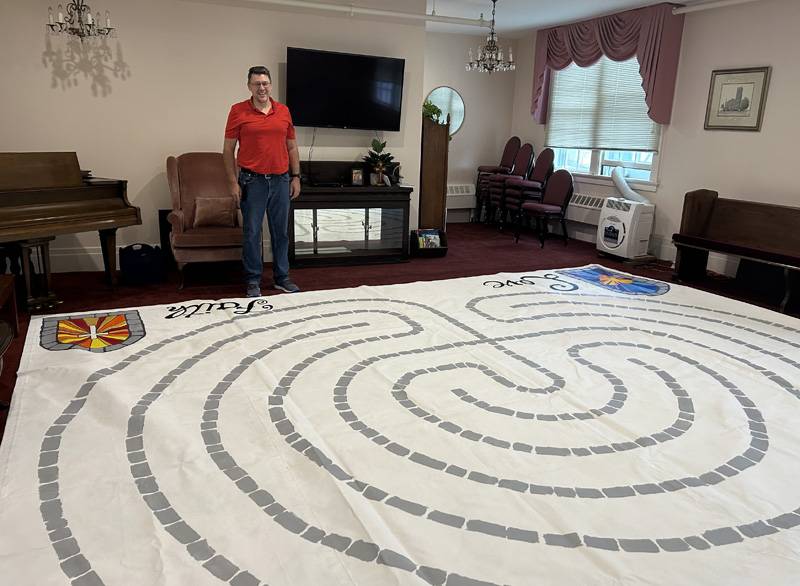 Artist Dan Butler has worked on a variety of projects and mediums over the years, from murals on exterior brick walls, sunflowers on a silo, artwork on headstones, a propane tank, a Kitchen Aid mixer, wood barns, an American flag on the side of a garage, and the inside wall of a Harvester Avenue art project called The Harve.
Now he can add a labyrinth to his portfolio. 
Commissioned by Batavia First Presbyterian Church, it was much more of an undertaking than the Perry resident and business owner thought it would be.
"It was mainly figuring out what type of, like, I had no idea, and neither did Dr. Roula as far as what material that we needed to get, and we needed to find a source for it. And you know, we knew we wanted a big canvas, but what is it exactly called? How heavy is it? That kind of thing," Butler said during an interview with The Batavian. "We eventually found a source and went with, I think, it was like a 13-pound duck cloth or something like that. And then, I had to come up with a design. We knew we wanted the seven-layer labyrinth design … when you actually see the labyrinth, it goes back on itself seven times. Well, there are seven rings anyway. And you can have all sorts of different things to it."
Though that may have seemed the tough part, it was the easier task, compared to actually working on the project, he said. He had to find a space large enough to accommodate the fabric — 18 feet tall by 18 feet wide, and it had to lay flat for him to paint, and then dry and remain there while he continued with the creation.
You may have seen a labyrinth outdoors, with a combination of paths or passages for one to navigate and focus on from entry to exit. These exist in parks and gardens as a series of mazes, though they can also serve as a spiritual or meditative journey to walk around the circles from beginning to end and back again.
Butler's understanding of the labyrinth is that it's a tool to help the participant to focus while walking from step to step — or in this case, painted brick by brick — which can be meditative and draw one's focus to a central point. These tools are said to be metaphors for personal journeys into the self and back into the world. 
Butler designed the labyrinth in keeping with a church theme, using gray rustic bricks — "stone bricks, kind of like the old school cathedral kind of thing," he said — for the path, and four stained glass designs, one for each corner. 
The church leadership had selected four words for those designs: faith, peace, trust and love. A colorful heart represents the love. 
Image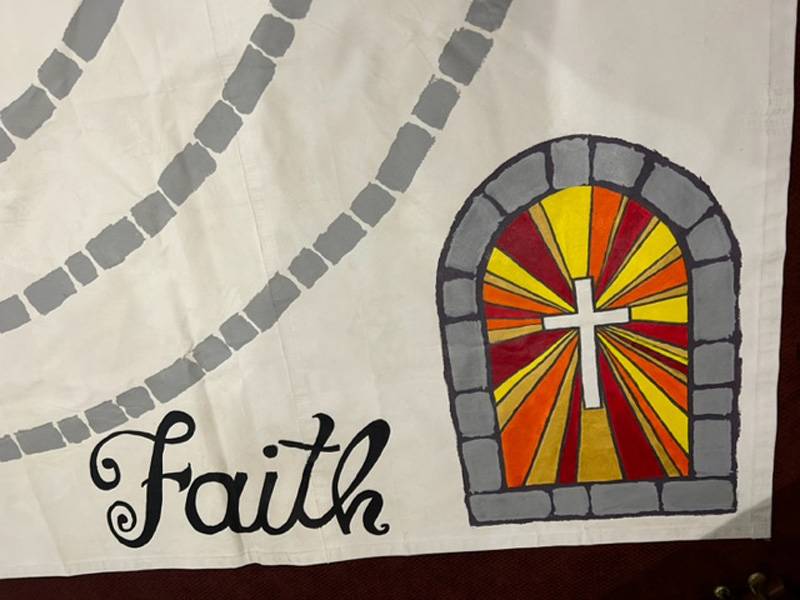 "But the hardest part to all of this was finding a space big enough to work on it. So I ended up doing it out in the field at my sister-in-law's and primed it that way. Like we did like three coats of white, just because it's like a duck cloth. It's just like a beige canvas," he said. "Then I tried doing a projector to try to line up the artwork to it, but I couldn't get it right in everything."
So he had to get a little more creative, and he moved the project over to his very newly purchased business site, Image Out Graphics in Perry. Purchased in July, he's just getting his feet wet at the property and has ample space to spread out and work on his designs and hand-painted craft. 
If it seems simple enough to draw and paint seven circles and four corner designs, everything had to be aligned with the right width out from the center, and each stone properly placed for feet to walk it. Upon completion, Butler tested it out to make sure it worked.
"I walked it plenty of times," he said. "You're focusing on trying to make sure you're following the path correctly. You're so focused on the path, you don't think about anything else. It kind of resets you."
He used acrylic paints and a sealant to preserve his hard labor, about 40 hours total. In hindsight, it was "definitely not that easy," he said, and took longer than he had estimated. 
With his new business, Butler, 47, now has two full-time jobs, he said. He also works for GLOW Creatives as a visual artist for the Arts Councils of Genesee, Orleans, Wyoming and Livingston counties. That involves him in drawing caricatures at a farmers market, leading a regular drink and draw at a Perry brewery, organizing activities at Medina's Day of the Dead, and "all sorts of visual media," he said. 
He has painted a mural outside of the GO Art! building in Batavia, and inside the kitchen for a culinary program, as well as participated in The Harve's Mad Hatter, large baby, caterpillar, and Cheshire cat displays at 56 Harvester Ave., Batavia. 
That's how he obtained this gig — GO Art! Executive Director Gregory Hallock recommended him to First Presbyterian Church, Butler said. He had no prior experience with labyrinths, but he can now chalk up another medium and type of project under his belt as being done. 
The Rev. Roula Alkhouri said the church will be celebrating the work, "which we hope to use in community events to help people pray or meditate through walking," she said. "Dan did a great job with this project."
There will be a blessing ceremony at 4:30 p.m. Saturday at the church, 300 East Main St., Batavia. Everyone is welcome to attend, and "join us in thanking artist Dan Butler for the fabric labyrinth he created for our community," Alkhouri said. "You will also have the chance to walk the labyrinth." 
A first-time Family Festival will follow at 5:30 p.m.
Submitted photos.
Image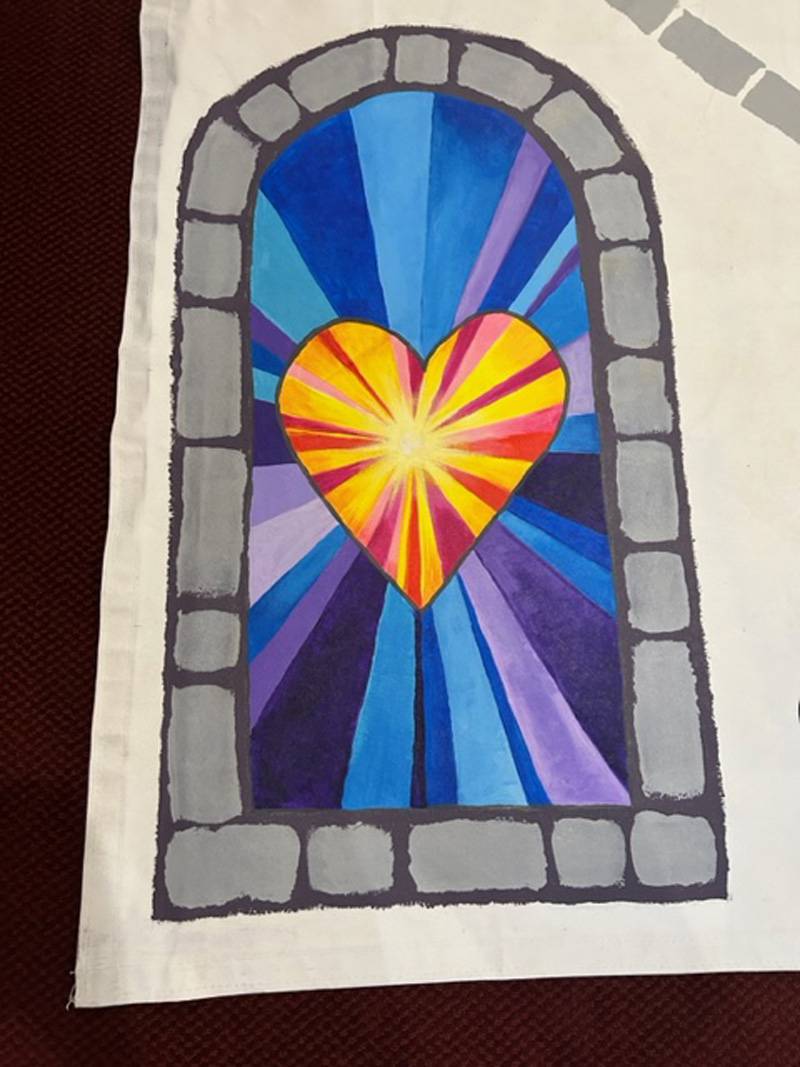 Image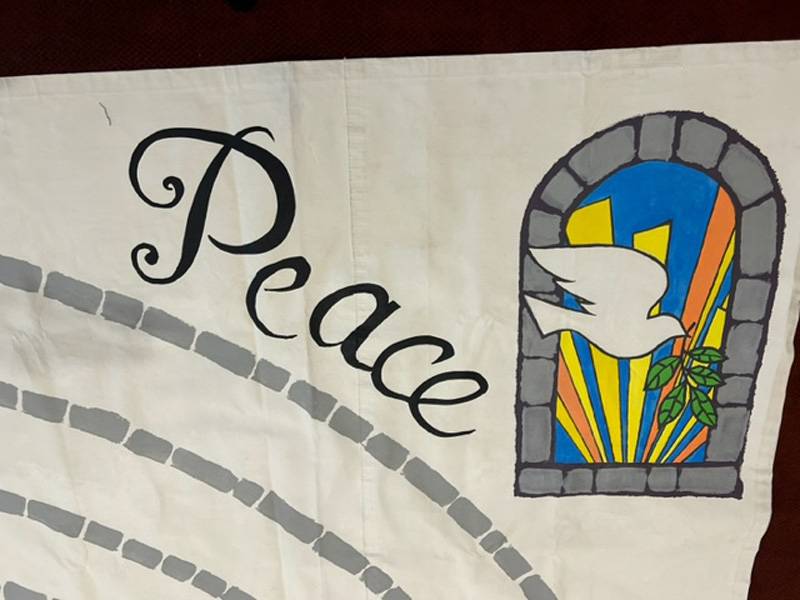 Image