Image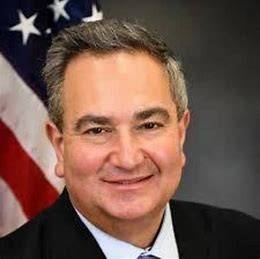 Calling it a "failure of the governor's office and her team," State Sen. George Borrello (photo at right) voiced his frustration earlier this week with New York's inability to forge a new gaming agreement with the Seneca Nation of Indians.
The contract, officially known as the Seneca Nation Compact, expires on Dec. 9 -- just 15 days away.
Gov. Kathy Hochul and Seneca Nation leadership thought they had a preliminary deal five months ago, but that was quashed by state lawmakers when it was learned – after the fact -- that the new compact terms included placement of a Seneca Nation-operated casino in Rochester.
Since then, there hasn't been any news about the status of a new contract, and Borrello, along with other local politicians, isn't happy about it.
"I've heard that they're trying to sign some kind of an extension," he said by telephone on Monday. "But really, this is a failure of the governor's office and her team to not negotiate in a timely manner.
"There have been just many broken promises, agreements in principle where the governor backed out. It's just that the governor's team has not been negotiating in good faith. And we've been trying to bring light to the fact that they need to come to the table in good faith."
Borrello said that once the deadline passes (barring an extension), Seneca Nation has no obligation to pay out any funds to the state because the contract will have expired.
"It really behooves the governor to fix it immediately," he added.
Borrello, noting that the original compact was signed in 2002, said New York State "changed the rules of the game and pulled the rug out from underneath the Seneca Nation when they created three state-run casinos."
"And you have sports gaming now, which wasn't in place then," he said. "New York State has saturated the market, and that has had a negative impact on revenue. So, I don't think the previous contract is fair in light of the new situation."
Per the original compact, the Seneca Nation pays 25 percent of its revenues on slot machines and other games to the state in exchange for the right to offer gaming west of Route 14.
The Seneca Nation currently owns and operates three casinos: the Seneca Niagara Casino & Hotel on the Niagara Falls Territory in Niagara Falls, New York; the Seneca Allegany Casino in Salamanca on the Allegany Territory; and the Seneca Buffalo Creek Casino in downtown Buffalo on the Buffalo Creek Territory.
Borrello represents the nation's interests in Allegany and Cattaraugus territories.
According to a published report in The Buffalo News, the Senecas had agreed to pay 19.5 percent of revenue on slot machines to the state, but only if a Rochester casino was included. Now, they are seeking a lower rate.
A call to Rickey Armstrong, Seneca Nations president, was not returned.
Henry Wojtaszek, president and chief executive officer of Western Regional Off-Track Betting Corp., which is based at Batavia Downs Gaming, said he agreed with Borrello that the market is oversaturated and is supporting the Fair Compact for All coalition that is representing gaming, organized labor, and community interests across the Finger Lakes and Western New York regions.
Members of the coalition, which includes Batavia Downs Gaming, del Lago Resort & Casino, Finger Lakes Gaming & Racetrack and Hamburg Gaming, said their goal is to ensure a transparent and equitable process as New York negotiates a new gaming compact with the Seneca Nation.
"We've combined to at least get the message out that we think a further gaming facility in the Rochester/Monroe County area would be oversaturating the market," Wojtaszek said. "This would not be a good thing for the employees, it wouldn't be a good thing for the communities and it wouldn't be a good thing for the municipalities that receive funds (from earnings at Batavia Downs and elsewhere). It's oversaturated even according to the state's own studies that they've commissioned."
Borrello said that even if an agreement is reached prior to Dec. 9, there are several hurdles to cross before ratification.
"Whatever agreement is reached, it has to be approved by the New York State Legislature," he explained. "And it has to be approved by a vote of the people of the Seneca Nation, and it has to be approved by the Federal Department of Interior."