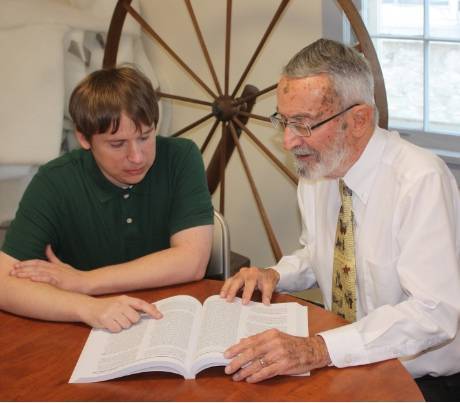 Larry Barnes — the go-to guru of all things related to the City of Batavia's history for the last 16 years — will be resigning his post effective Dec. 31, he says.
Barnes met with City Manager Rachael Tabelski Wednesday to personally deliver his letter of resignation and give an official 30-day notice. He decided to leave for a number of reasons, he said, including health issues and "it's time to move on."
"It's been a terrific experience. I've learned a lot about the community in the process of doing the research for the books that I've written and the monographs that I've written, and just in terms of putting together talks and that sort of thing," Barnes said to The Batavian Thursday. "State law requires that we have an appointed city historian."
As of 2010, an official job description went into effect for the position, he said, which requires that the proper candidate live in the City of Batavia and is not allowed to keep city documents outside of the office maintained at City Hall.
City Code states that "there shall be a City Historian as required by Article 57 of the Arts and Cultural Affairs Law of the State of New York," and that "the City Historian shall be appointed by the City Manager with a term of office of four years. The City Historian may be appointed to consecutive terms by the City Manager. The City Historian must be a resident of the City of Batavia."
Barnes has authored several books, and more recently scripted a play about Brisbane Mansion, which has been a hot topic of late. City officials are mulling options for the property, currently housing the city police department, and a consultant proposed two possibilities of selling it to a developer for use of a boutique hotel or market-rate apartments.
Barnes has been a proponent of repurposing the Main Street site and not letting it falter or be demolished, paths that other pieces of city history have taken in the past.
"That building definitely needs to remain, it shouldn't be torn down like many other historical buildings have been. And the proposal that has just been presented, either a boutique hotel or apartments or a combination of the two, would be ideal, I think."
Barnes, a retired educator, has been quite active in the community, either serving or having served with several history-related groups, including the Landmark Society of Genesee County, Batavia Historic Preservation Committee, Genesee County Historians Association, Government Appointed Historians of Western New York and the Association of Public Historians of New York State.
For nearly his entire city historian career, Barnes has done the work as a volunteer. City Council just approved a yearly pay of $5,000 this past year. 
He and his wife Jerianne plan to stay in the community, Barnes said. 
Always one to offer up tidbits of history, he added that Jerianne's first name has not always been this. In fact, it wasn't until five decades later that she changed her original name to Jerry Louise, he said.
Her parents had planned to name their impending child Jerry Lewis for a boy and instead named their baby girl Jerry Louise. Hating all of her life, Jerry decided to give herself a 50th birthday present and had her name changed to Jerianne Louise.
While not really a part of Barnes' retirement, Jerianne has been part of his life, and therefore the history indeed belongs with the historian.