Image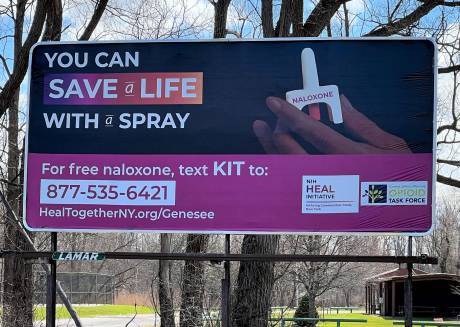 Press release:
The Genesee-Orleans-Wyoming Opioid Task Force has added another weapon in the battle to prevent opioid overdose deaths: a Text for Naloxone Line.

"We are very excited to offer this free and confidential text line to the community. Now, more than ever, it is vital to increase awareness and education about Naloxone and provide more ways to get it to those in need," said Christen Foley, GOW Opioid Task Force coordinator.

To receive the Naloxone using the Text for Naloxone Line, text KIT to 877-535-2461.

When texting that number, individuals will be connected to the text line and prompted to answer a few brief questions, including the recipient's name and address. The delivered kit also will include other resources, such as information on local services and video links on how to administer Naloxone and where to seek care following an overdose.

Naloxone (brand name Narcan, among others) is a medication approved by the Food and Drug Administration that reverses opioid overdose rapidly, It is an opioid antagonist, meaning that it binds to opioid receptors and can reverse and block the effects of other opioids.

Sometimes other drugs, including cocaine and methamphetamine, are mixed or laced with fentanyl.

Five key facts about Naloxone are as follows:

It temporarily reverses the effects of an overdose from opioids, including heroin, morphine, oxycodone (OxyContin), methadone, fentanyl, hydrocodone (Vicodin), codeine, hydromorphone and buprenorphine.

Naloxone is administered as a nasal spray, a prefilled device that sprays medication into the nose.

It will not harm someone if you give it to them and they are not overdosing on an opioid. Signs of an overdose may include constricted pupils, falling asleep or loss of consciousness, limp body, slow breathing, choking or gurgling sounds, cold or clammy skin.

It is one important step when helping someone who is overdosing. If you think that someone is overdosing on an opioid or another substance, call 911 immediately, and give Naloxone as quickly as possible – not waiting for emergency personnel to arrive.

It can potentially save a life. For more information about the medication, consult your doctor or pharmacist if you or someone you know is taking prescribed opioids or using illicit opioids.  You may also want to ask about naloxone if you work or volunteer in an environment where you may be able to help someone who is overdosing.

Submitted photo: The GOW Opioid Task Force and HEAL Initiative are sponsoring billboards promoting a Text for Naloxone Line in Genesee County. This one is up on Route 5, west of the city of Batavia.