Depending upon who you talk to, Gov. Kathy Hochul's 10-point plan to revise New York's bail reform statute is either a good first step toward granting judges more discretion in determining whether or not to impose bail for serious crimes or it's simply a politically expedient move by someone looking to win an election in November.
In recent days, Hochul presented a comprehensive list of changes to the no-cash bail law, including, for the most serious felonies, allowing bail determinations to be informed by factors such as criminal history and history of firearm use and possession; making repeat offenses subject to arrest and posting of bail, and making some gun-related and hate crime offenses subject to arrest and incarceration (and not appearance tickets).
The proposal also is being made following the release of a Siena College poll indicating that two-thirds of New York voters are in favor of strengthening the no-cash bail law and giving judges the power to consider a defendant's prior arrest record.
The Batavian reached out today to Genesee County attorneys and law enforcement personnel for their "takes" on the governor's stance.
Image

Genesee County District Attorney Kevin Finnell
says he hasn't read the details of all of Hochul's points, but for the primary one – allowing judges to consider additional information – he believes that is appropriate.
"That's what the judges were able to do pre-bail reform," he said. "And I think giving them that latitude and authority is good because they're the ones that see these people, they evaluate them on a case by case basis, and the judges do a good job in deciding who's a flight risk and who isn't. So, having that back in the judges' hands is a good thing."
Finnell said he also agrees with judges having the ability to set bail on repeat offenders.
"Again, using the same criteria, assuming that they can, allow the judges to do what they've always done in evaluating the case -- the person and the likelihood that they'll return rather than just going to the least restrictive form automatically," he said.
"That may be appropriate in a lot of cases and the judges will be able to still release people to under supervision or ROR (released on your own recognizance) when the case is appropriate. But giving them the extra tool -- the extra ability to set bail when appropriate -- I think is always a good thing."
Genesee County Public Defender Jerry Ader sees Hochul's plan much differently, stating that politics are playing a key role.
Image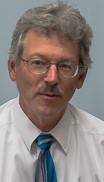 "I had hoped that the governor would have maintained her long standing position that any possible changes to the law as it related to bail would only be driven by data, not politics, and that gathering such data would take time," he said. "Unfortunately, I am not shocked or surprised that political pressure has resulted in this new 're-election'10-point plan.  Maintaining power is powerful force."
Ader pointed to The Brennan Center for Justice report, released yesterday, that "there is no clear connection between recent crime increases and the bail reform law enacted in 2019, and the data does not support further revisions to the legislation" (https://www.brennancenter.org/our-work/research-reports/facts-bail-reform-and-crime-rates-new-york-state).
"In our county, the bail laws presently in effect are working.  Money is no longer the driving factor as to whether someone charged with a crime is in jail.  Most people charged with violent felony offenses and many non-violent offenses can have bail set, if the court determines it to be necessary to insure the person appears," he said. "If someone has been released, he can be remanded if he persistently fails to appear in court or is re-arrested for a felony.  There is no evidence that our county is any less safe."
Ader acknowledged that gun violence is increasing, and he has "no problem with enacting new legislation or the state providing additional funding to help remove illegal weapons from our community. "
Calling Hochul's plan "a step in the right direction," Genesee County Sheriff William Sheron said that tougher gun laws are not the answer when dealing with the criminal element.
Image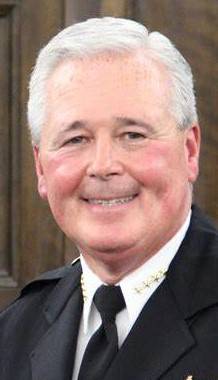 "I firmly believe that they can pass all these gun laws that they want, but the prime definition of "criminal" means criminals do not follow laws," he said. "So, you can pass all the gun control regulations you want, but those with criminal intent are not going to follow those laws. The ones that are really going to be affected are the law abiding citizens."
Sheron said laws with more teeth need to be passed.
"We have got to have more of a deterrence out there," he said. "If people possess illegal firearms, or use a firearm illegally, they're going to suffer severe consequences and that is going to send the message to other people."
The sheriff also said he's on board with giving judges more discretion in the bail process to prevent instances of repeat offenses, something that he says have been on the rise and are endangering the public.
"One that comes to mind is where the individual was stealing motor vehicles from around the area," he said. "We would catch them with one, and he'd go before a judge and get released. It wasn't a bailable offense and he'd steal another car. It was just a vicious circle. I forget the total number of vehicles he stole, but he knew there was no chance he was going to jail, so it was a big game to him."
Sheron said society has gotten away from the "standards of accountability."
"People make mistakes, I get that, but there has to be a deterrence. Even with kids in school. They see there are no consequences to their misbehavior or their improper actions, and that leads to more improper actions."
Image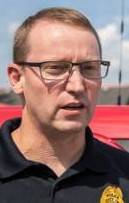 Batavia City Police Chief Shawn Heubusch
said he hopes "changes are meaningful and will address crime in our area."
He said he stands with the New York State Association of Chiefs of Police, which issued a statement today contending that the state's effort to correct "historic inequalities in the criminal justice system" … "tipped the balance so far in favor of the accused that public safety has been jeopardized."
The statement continues, "We believe that it is possible to create a system in which the rights of the accused are respected while the rights of victims and the public are also respected. Public safety must be a priority. We look forward to working with Governor Hochul and the legislature to identify the proper path forward."
Heubusch said that "one size fits all packages coming out of Albany do not work in every jurisdiction and do not address the impacts to our neighborhoods and communities."
"We are hopeful that meaningful change will be implemented to aid us in protecting our citizens."
Finnell said local justices are qualified to make proper judgments, as long as they are given the power to do so.
"I also think recognizing that not everybody should go to jail is important, too," he said. "That's the other side of the coin. The purpose of bail is and always has been to ensure that somebody will appear for when required in in County Court. But we've seen that fail in many ways since bail reform."
Ader stated that he agrees with the governor on her call for increased funding for pretrial, diversion, and employment programs and for mental health treatment.
"It would also help our community immensely if the non-monetary release option of electronic monitoring could be implemented in our county.  It is an option under the present law but has never been used in our county," he said.
Overall, he thinks Hochul's 10-point plan is a "knee-jerk political reaction" that moves the state back to a more subjective and repressive system of bail.
"It may make some people feel better, but that's not the reason for legislation," he said. "Laws and changes to them need to be driven by data and facts, not emotion."
The 10-point plan, per a published report in the New York Post, includes:
For the most serious felonies, allow bail determinations to be informed by factors including criminal history and history of firearm use and possession. Judges will be allowed to set bail not based solely on the "least restrictive" conditions deemed necessary to ensure a return to court. The statute will set forth specific criteria on which judges will base their determinations, including criminal history and history of firearm use/possession.
Make repeat offenses subject to arrest and bail-eligible
Make certain gun-related offenses, hate crimes offenses, and subway crime offenses subject to arrest and not [desk appearance tickets]. Certain offenses which presently are subject to desk appearance tickets will be made only eligible for arrest.
Make certain gun-related offenses bail-eligible.
Make it easier to prosecute gun trafficking.
Targeted reforms of the discovery statute.
Targeted reforms of the "Raise the Age" statute.
Increase funding for pretrial, diversion, and employment programs: Hochul's budget already includes $83.4 million for pretrial services, but the governor would increase that amount — although the memo did not say by how much. It would also distribute the nearly $500 million appropriated for "Raise the Age" implementation that has not yet been spent.
Expand involuntary commitment and Kendra's Law.
Increase funding for mental health treatment.