Image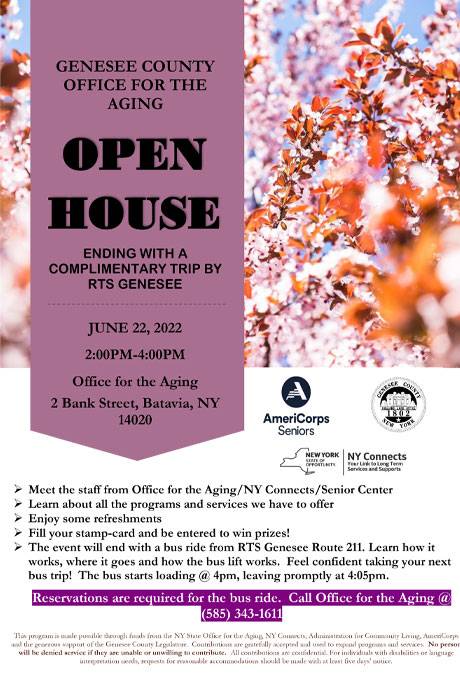 Q & A with Genesee County Office for the Aging Director, Diana Fox:
Q: Why an Open House and why now?
A: We've reopened! If you don't know who we are or what we do, this event is for you.
Q: What can everyone expect?
A: To come in and talk with our staff, no appointment necessary! Discover the wide variety of programs, services and activities Office for the Aging offers focusing on advocacy, education and awareness, social and health-related supports and benefits assistance. We primarily serve Genesee County residents 60 year of age and older and their caregivers. Find out how our core programs support older residents and their families through programs like: home delivered meals and group lunch programs, recreation/social activities, volunteer opportunities, case management, in-home personal care and housekeeping, medical/shopping transportation, outreach and benefits counseling, legal assistance, information and referral, home improvement and home energy assistance, as well as long- term care and health insurance counseling.
Q: What is new with Office for the Aging? What is the same?
A: We have some new faces that we want everyone to meet! In our new Community Room, there will be a demonstration of Get Set Up--the largest and fastest growing online community of older adults who want to learn, connect and do wonderful things. We're also happy to announce the expansion of our Got Groceries? Program, a no-cost volunteer-based grocery shopping and delivery service for older residents.
Many things have remained the same, like our long-standing staff members and our new ones, who are ready to help in any way we can. We're looking forward to welcoming the public for a great afternoon together!