Image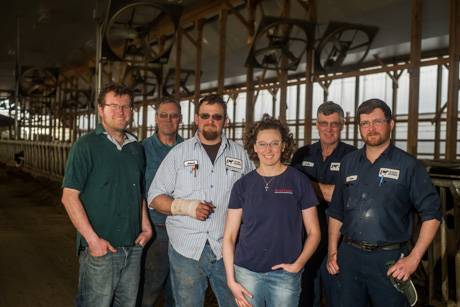 To fully understand the ongoing success of the family owned, environmentally conscious Stein Farms on Gully Road in the Town of Le Roy, one needs to comprehend the meaning of a famous quote by Aristotle: "The whole is greater than the sum of its parts."
While many people – the Stein family members and 21 dedicated employees – use their particular talents and skills in a variety of ways, it's the collective synergy that has enabled Stein Farms to survive and thrive for more than 60 years.
When taking a closer look at Stein Farms, which has been selected by the Genesee County Chamber of Commerce as the Agricultural Business of the Year for 2016, it is clear to see how the Greek philosopher's axiom applies.
The connection among the workers on the 2,500-acre dairy farm that milks more than 900 cows has produced a total effect even greater than what each one could produce individually.
"Ours is one of a number of multigeneration farm families in our county, and that's why they are successful," said Dale Stein, who owns the farm along with his son, Nate, 35; his brother, Ray, and Ray's children, Jerrod, 31, and Natasha Sutherland, 33.
"We want to make it enjoyable for the kids to have a good life – family life, not just work – and we are dedicated to preserving the environment. We want to be known as people who care."
In her nomination letter to the Chamber's selection committee (the awards ceremony is set for March 4 at the Quality Inn & Suites on Park Road), Hiedi Librock, of Darien, pointed out the family's commitment to environmental stewardship, viable employment practices, compassionate animal care, civic and community involvement, and event sponsorship in the Le Roy area.
She also mentioned Stein Farms' recent $1 million expansion – the Steins also tend to more than 1,000 young stock – and attributed its progress to a decision made in the early years to adopt a dual cropping system that includes fall-planted triticale (a wheat/hay hybrid) for spring silage.
Stein Farms was founded in 1956 by Louis "Bud" and Jane Stein, who took over a former Curtice-Burns farm located next to Oatka Creek and just a couple miles from the Monroe County line. Louis passed away in 2007; Jane resides in Florida.
"Dale and Ray are the second generation, and Nate, Natasha and I are the third generation, coming back to the farm after trying other things," said Jerrod, who returned to the fold about 10 years ago. "We went out to see what the world is really like … being the low man on the totem pole and seeing the way people were treated."
Jerrod's uncle, Ken, also was a co-owner until his death in August 2015.
Each of the owners has specific responsibilities, but is versatile enough to fill in the gaps when necessary, Jerrod said.
Jerrod's forte is machinery maintenance, keeping the field operations going and overseeing the crew during planting and harvest seasons.
"We have three or four full-time employees on this side of the road and hire three or four retired guys for chopping," he said.
Dale's primary task – and a big one at that – is to feed the cows and keep that part of the farm running, which means being on the job six days a week to make sure the cow-milking machinery is working properly.
He also has been the chairman of the New York State Soil & Water Conservation Committee for more than a decade, leading a group that facilitates grants to help farmers implement programs to preserve the environment.
Ray's main focus is ensuring a bountiful crop as 1,200 acres are used to grow corn for the cows and another 900 acres for hay seedings.
Rochelle Stein, Ray's wife, who is well-known for her role as a Genesee County legislator, representing District 5 (Town of Le Roy), and Natasha's husband, Richard, also work with the ownership team.
Natasha's area of expertise is on the health of the nearly 2,000 cows and young stock in the barns, a time-consuming chore that includes interaction with veterinarians and keeping up with the latest technology.
She is a former co-chair of Young Farmers and Ranchers and liaison to the Dairy Farmers of America.
And last but not least, Nate, a Leadership Genesee graduate, can be found handling the feeding duties on Dale's days off, cleaning the barns, hauling manure, monitoring the separation system, etc., etc.
"Nate is a jack-of-all-trades," Jerrod said. "He can do it all."
The entire family hosted a "Field to Fork Feast" in September 2015, a high-end dinner event to help the Town of Le Roy generate funds as part of the America's Best Communities revitalization competition.
And they are unwavering in their pursuit of maintaining the water quality of Oatka Creek, which features public trout fishing about 300 yards upstream from the farm.
"We get a lot of fishermen here. It gives us an incentive to make sure we are doing things right," Dale said.
Jerrod and Dale said they are confident the operation will continue for many years, noting that Natasha's children, Daniel, 4, and Lockwood, 3; Nate's child, Lucas, almost 2; and Dale's daughter Casey's child, Zoey, 4, already are learning the ins-and-outs of farm living.
"The three boys go like crazy," Dale said. "When they see a tractor, they have to be on it."
Top photo: Richard Sutherland, left, Jerrod Stein, Natasha Sutherland, Nathan Stein, and back row, Ray Stein, Dale Stein. (Photos by Howard Owens.)
Image