Image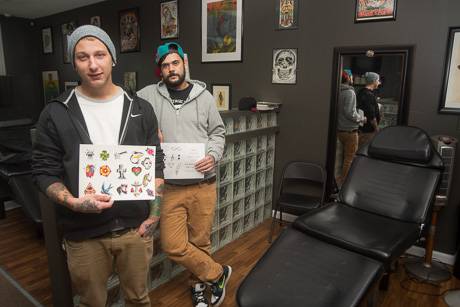 Four years ago Mark Fanara, whose Batavia tattoo business High Voltage had become very successful, thought he should do something to give back to the community that had nourished him his entire life, so he decided to hold a charity tattoo event and donate the proceeds to local community groups. The event was so popular and raised so much money for local charity that he decided to do it again the next year, and the next, and the next.
This year, Mark needs the community's help. Hospitalized with lymphomatoid granulomatosis, a rare cancer, the father of little two boys has only limited means to deal with his illness.
To help him out, two of his employees, Andrew London and Jeremy Fridman, are holding their own three-day event of tattoos and piercing to benefit Mark. The event is from 11 a.m. to 8 p.m. Oct. 23 through Oct. 25. Customers can select from a specific set of designs for a small tattoo for $30. Piercings are $15. Proceeds benefit Mark Fanara.
High Voltage is located at 110 W. Main St., Batavia.
There will also be a spaghetti dinner at 1 p.m. Sunday, Nov. 1, at the Alexander Fire Hall. Live music with Nix Vega starts at 6 p.m.