August 26, 2022 - 11:13am
Funatthebeach N heads best Kane field ever at Batavia Friday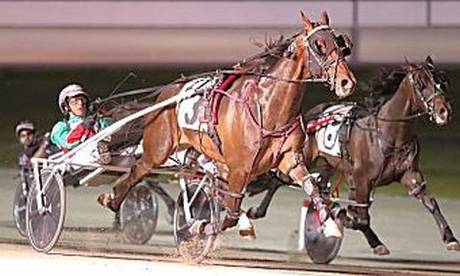 The 17th edition of the Robert J. Kane Memorial Invitational Pace will be held at Batavia Downs on Friday (Aug. 26) and with the $75,000 purse being the highest ever offered, has drawn the highest quality field ever seen since the race was instituted. With combined earnings of just under $5 million between the eight starters, the 2022 edition should place the track record of 1:51.1 in jeopardy and prove to be the most memorable yet.
Funatthebeach N was claimed last September at Yonkers Raceway for $75,000 by owner Mark Ford and it has been the days of wine and roses ever since. He went on to win three Yonkers Open paces and finished second by a length in another to Tattoo Artist in the track record tying time of 1:49.3. This year he won two legs of the Borgata series at Yonkers before taking the $549,000 final in April. In June he took his second major stake after winning the $200,000 Battle of Lake Erie at Northfield Park in 1:49.2 which also gave him a new lifetime mark. Since that time he has continued to be a force in the best class at The Hilltop and comes into Friday's race as the second richest aged pacer of 2022 (behind only Bulldog Hanover) with $546,197 in earnings. He is also the richest horse in this race with $879,946 made lifetime.  
American Courage won seven straight New York Sire Stake races at two before taking his first defeat in the final. He came back at three and won the $500,000 Messenger Stake at Yonkers and competed in both the Meadowlands Pace and the Little Brown Jug. This year he paced the eighth fastest mile of the season at Mohegan Sun Pocono in July when he scorched the oval in 1:47.4 in a 6-1/4 length romp. He has since won two Open paces at Yonkers in identical 1:51 miles and comes into this race razor sharp off a 1:48.3 second place finish to Allywag Hanover at Mohegan Sun Pocono just six days ago.   
Gia's Surreal is the only female in this field and only the second ever to start in this race. She raced at Batavia as a 2 and 3-year-old and knows this track well. This will be her first start back at her home track since August 5, 2020. Over the past two years, she has faced the best Open female pacers in North America week in and week out and is held in the same esteem as Lyons Sentinel, Racine Bell, Test Of Faith, Majorca N, Amazing Dream N, Rocknificent and Siesta Beach. She has done some of her best work over a half-mile track as is evidenced by her work at Yonkers since 2021.
Splash Brother has raced at Batavia Downs three times during his career competing in the NYSS, but this will be his first start back since 2020. That was the year he took his lifetime mark of 1:48.2 at the Meadowlands. Last summer he was race timed in eight sub-1:50 miles out of 10 straight starts including a 1:47.4 clocking where he has beaten only 2-3/4 lengths at the Meadowlands. He continues to flaunt his speed at five, taking a seasonal win mark of 1:48.4 at the Meadowlands, being race timed in 1:47.2 in the $98,000 Roll With Joe Stake in July he and comes into Friday's race off a sharp 5-1/2 length win at Yonkers in 1:51 flat. It's also a homecoming for trainer Ray Schnittker who is originally from nearby North Tonawanda, NY and started his career racing at Batavia Downs.
Semi Tough is another Yonkers Open regular who finished third in the $549,000 Borgata final behind Funatthebeach N in April. He was given a couple months off after that series and only has three starts back since that time. This horse has a lot of back class after earning just short of $500,000 as a 2 and 3-year-old. The former Pennsylvania Sire Stake star was in a number of prestigious stakes during his career including the North American Cup, Little Brown Jug and Breeders Crown twice. Those appearances have pushed his lifetime earnings to $874,000, making him the second-richest starter in this race.
American Dealer N is a multiple Group One winner in the southern hemisphere that includes a victory in the 2021 Queensland Derby at Albion Park. He made his last start in Australia on December 4, 2021 and then landed in North America shortly after. He made his first U.S. start in March at the Meadowlands a winning one after a 1:49.2 effort in an upper-level condition race. Since that time he won a leg of the Borgata and two Opens at Yonkers. He was race timed in 1:48.3, beaten only a neck at the Meadowlands in May with a sparkling :25.3 final quarter. The following week he was race timed in 1:49.4 in the $100,000 Commodore Barry where he lost by only 2-3/4 lengths. He will face some familiar foes in this race.  
Wild Wild Western was unraced at two but competed in the Pennsylvania Sire Stakes at three as well as the $400,000 Adios, but that was pretty much the extent of his stake action. As a result, he has earned the bulk of his $484,025 in lifetime earnings the hard way --- in overnights. He has been a fixture in the Open class at the Meadows (where he took his 1:49.1 lifetime mark) and Northfield Park since 2020. Recently he finished third in the $100,000 Commodore Barry race timed in 1:49.2 and competed in Invitational paces at Hoosier Park and Mohegan Sun Pocono.
Moonshine Kisses has been lightly raced this year but he has tons of speed and knows how to win. The Saratoga-based pacer shipped to Massachusetts for his last three starts and really made a mark in the top class at Plainridge Park. His first outing there was a 1:49.3, 4-3/4 length win that not only gave him a new lifetime mark, but also tied the Plainridge track record for aged pacing horses. He then finished second to Allyouneedisfaith N by 1-3/4 lengths in 1:50.2 after getting parked the entire mile. He bounced right back in his last start and won again in 1:50.2. He is another blue-collar horse that just shows up and performs.
The $75,000 Kane Memorial will go as race nine with an estimated post time of 8:40 p.m. Friday's card also features New York Sire Stake 3-year-old trotters of both genders competing for $232,700 in purses. Post time for the first race is 6 p.m. 
Photo courtesy of Mark Hall